Is your brand among the 5 million businesses taking advantage of TikTok's advertising features? The introduction of TikTok search ads feature is creating quite a buzz and generating excitement within the advertising industry.
TikTok has taken the social media world by storm, captivating the attention of millions worldwide. With an astounding user base of approximately 80 million monthly active users in the United States alone, this creative powerhouse offers an incredible opportunity to reach and engage a massive audience.
TikTok's recent update made a groundbreaking move by entering the search ads market, aiming to challenge the dominance of Google and Microsoft. This unexpected development has shaken the industry and opened new business opportunities to expand its reach.
Are TikTok Search Ads the Missing Piece in Your Advertising Strategy?
The beta test rollout of TikTok's search ads feature last year yielded promising results. Testers confirmed that by enabling search ads, advertisers gained access to invaluable data—the search terms that directly contributed to conversions. With this knowledge, advertisers could optimize their campaigns by using high-performing search terms as headlines for their most successful TikTok videos, resulting in impressive additional benefits.
This blog will unveil the strategies, tips, and best practices that will help you maximize this innovative feature. Discover how the convergence of search terms and captivating video content can catapult your brand's visibility and engagement on this emerging platform.
What You Need To Know About TikTok Search Ads
TikTok has transcended its status as a social media platform, emerging as a popular search engine among the younger generation. Approximately 40% of 18-24 year olds now turn to TikTok to access information, alongside other platforms like Instagram. Last year, Prabhakar Raghavan, Google's SVP, highlighted a significant shift among younger generations in their search behavior, stating that when young people seek a place for lunch, 40% of them turn to TikTok or Instagram instead of Google Maps or Search.
This shift means many Gen Z and Millennials bypass traditional search engines when discovering the newest products and services. Instead, most consumer product searches and discovery begin on social media platforms like TikTok.
What Are The Key Features of TikTok Search Ads
TikTok Search Ads offer a dynamic approach to capturing the attention of your target audience. Unlike the content featured on the "For You" page, TikTok search ads appear within search results.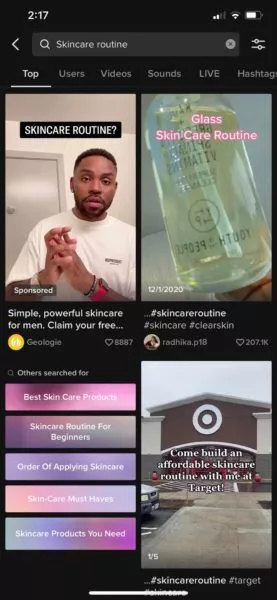 Source: Thrive Internet Marketing Agency
This strategic placement allows brands to position themselves before potential customers actively seek information on relevant topics. Brands can effectively engage viewers during their exploration by targeting specific search terms related to their product or service.
TikTok search ads provide invaluable insights that shape marketers' ongoing strategy within the TikTok platform and across a broader media mix. By running TikTok search ads, brands gain visibility into the non-targeted search terms that drive website traffic.
Brands can leverage top-performing keyword searches as the foundation for future paid and organic content. For instance, if searches for "ideas for snacks" generate significant traffic, developing a series of captivating videos centered around this topic becomes an opportunity, resulting in heightened engagement.
Exploring the Benefits of TikTok Search Ads for Your Business
Businesses targeting younger audiences should take the lead in advertising on TikTok search ads once they become available. This demographic is not relatively easy to reach through traditional marketing methods. TikTok offers a unique advantage by catering to the younger demographic that no longer relies on Google to search for products or services.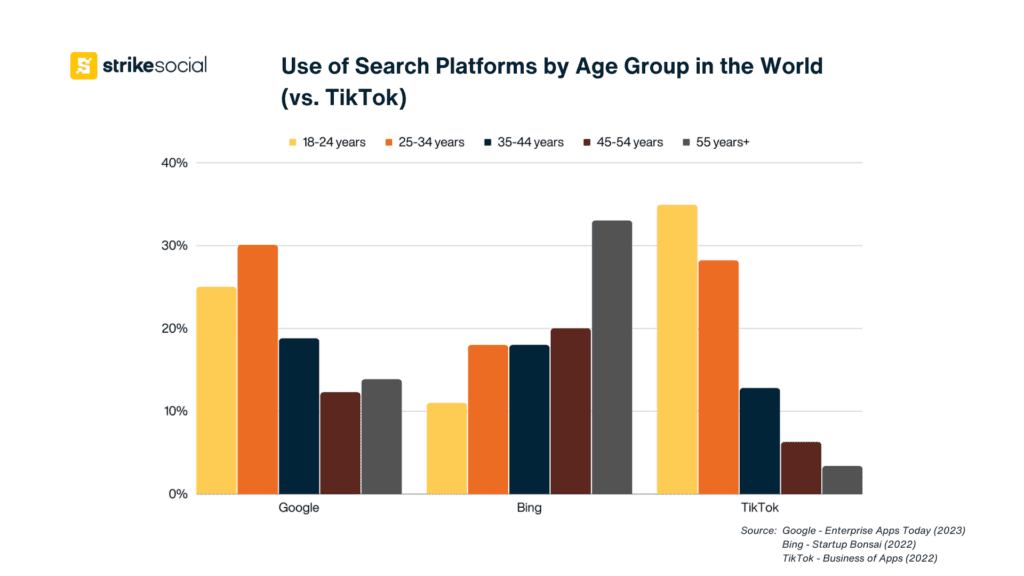 Wesley Wessels, Paid Media Engineer at Thrive Internet Marketing Agency, identifies TikTok's ability to provide social proof as its greatest strength. New brands, restaurants, events, and businesses venturing into the digital sphere or seeking new audiences through TikTok search ads can benefit from the platform's niche appeal.

As visual content-focused platforms resonate strongly with the younger demographic, investing in TikTok search ads early on is a strategic move to get ahead of the curve and capitalize on this advertising opportunity.
TikTok search ads allow for precise targeting and provide valuable insights into the search terms that drive campaign goals. Using this information, brands can forecast future content strategies and align their video content with top-performing search terms, resulting in a more substantial brand presence and enhanced engagement on TikTok.
How Does TikTok Search Ads Work
TikTok's search ads platform allows businesses to bid on specific keywords and phrases, similar to how it works on platforms like Google. However, TikTok's ad platform has unique features and targeting options that set it apart from traditional search ad platforms.
1. Keyword Bidding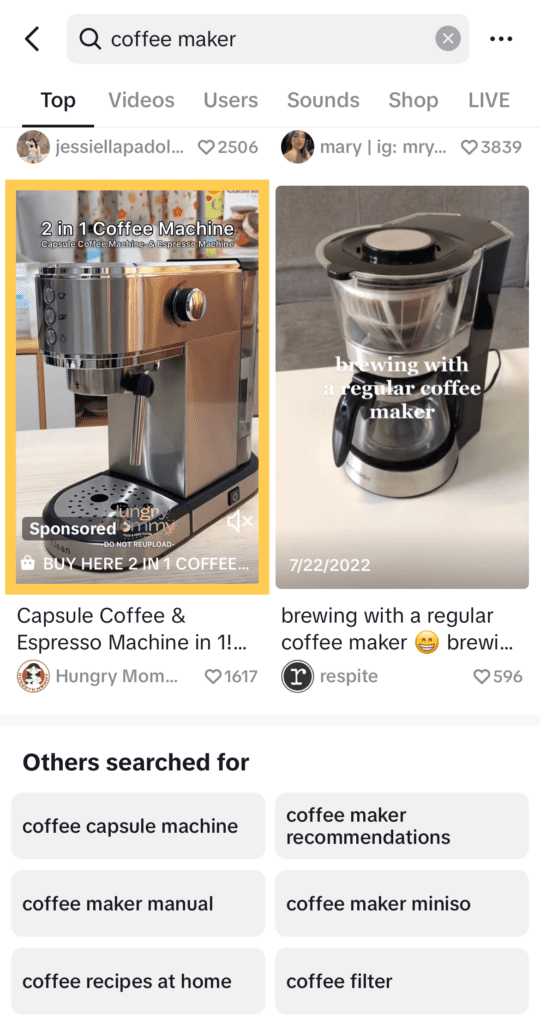 Bidding on specific keywords for TikTok search ads follows a similar concept as other search platforms like Google Ads and Microsoft Bing. By bidding on relevant keywords, businesses can increase their visibility and improve their marketing efforts on TikTok.
When bidding for keywords on TikTok, businesses can secure prime real estate on the search results page, appearing above the "Others Searched For" section. These search ads are labeled "Sponsored" to differentiate them from organic results.
It's important to note that while keyword placements are available, keyword targeting is currently limited. To increase your chances of appearing in the search results, it is recommended to focus on using your company's brand name and specific product as the target keywords.
However, you can optimize your TikTok videos by using high-converting search terms as video titles, adding further value to your ad campaigns.
2. More Options For Audience Targeting
In addition to keyword targeting, TikTok's ad platform offers unique options for advertisers to target their audience based on interests, demographics, and behaviors. These additional targeting options go beyond relying solely on keywords, allowing marketers to create more specific and tailored promotions on TikTok. This level of granularity in audience targeting is a game-changer for marketers seeking a more focused approach to reach their target audience.
Related article: TikTok Analytics: Marketers' Guide to Understanding TikTok Ads Targeting
Potential Challenges and Considerations With TikTok's Search Ads
TikTok's foray into search ads has garnered significant attention from advertisers and marketers looking to tap into the platform's vast and growing user base. However, while there is excitement surrounding this new advertising opportunity, there are certain aspects that advertisers should keep in mind.
The unproven nature of TikTok search ads may make some advertisers adopt a cautious "wait-and-see" approach.
Despite its large user base, TikTok is still relatively new to search ads, leading to hesitation in investing in an untested ad format. However, several major advertising agencies and brands have already shown interest in TikTok search ads, driven by the potential to reach new audiences and maximize ROI.
Advertising on TikTok raises concerns regarding safety and suitability, particularly for brands with strict content and audience standards.
The platform has previously faced criticism for hosting inappropriate and controversial content, including videos containing hate speech or sexual content. Advertisers may hesitate to promote their brands on TikTok due to potential negative associations that could impact their brand image.
While TikTok has implemented content moderation policies and tools to assist brands in managing their advertising campaigns, there remains to be uncertainty surrounding the safety and suitability of advertising on the platform.
Related article: Exploring TikTok's Effectiveness in Prioritizing Brand Safety and Suitability for Advertisers
TikTok must address its ad presentation and user experience on search ads.
Advertisers will face a learning curve in creating effective and engaging search ad content that aligns with TikTok's format, which differs significantly from platforms like Google Ads. Finding the right balance between capturing attention and fitting the distinct video format will be essential for successful TikTok search ads.
To ensure a positive user experience, TikTok must prioritize the user-friendliness and non-intrusiveness of its search ads platform. Users may be discouraged from engaging with the platform if they feel overwhelmed by excessive ads or encounter irrelevant content. TikTok must balance ad delivery and user satisfaction, ensuring the ads align with user interests and preferences. Continuous improvement and optimization in this area will be crucial for the success of TikTok search ads.
When Will TikTok Search Ads Become Available For Advertisers?
Currently, TikTok Search Ads are accessible only to a limited number of selected partners. However, the platform has plans to expand its availability soon.
According to Business Insider, TikTok aims to make its search ads more widely accessible by the third quarter (Q3) of 2023. This timeline aligns with TikTok's recent actions, including recruiting search ad engineers to develop a large-scale ads system and their proactive engagement with marketing agencies and businesses to promote their search ad platform.
It's important to note that the timeline for the broader availability of TikTok search ads is flexible and may be subject to adjustment. However, the likelihood of Q3 2023 being the target is high, as it would provide TikTok with sufficient time to gather valuable data and insights before the high-spending period of Q4 approaches.
With the introduction of TikTok Search Ads, advertisers and media buyers can anticipate new and exciting opportunities to reach audiences more organically and seamlessly. TikTok's continuous innovation in the advertising space suggests that there may be further developments and enhancements in store.
Ready To Ride The Wave Of TikTok Ads?
TikTok's entry into the search ads market presents a game-changing opportunity for businesses to enhance their advertising strategies and connect with a vast and engaged audience. With its impressive user base and the increasing popularity of TikTok as a search engine among younger generations, the platform offers a unique avenue for brands to reach their target demographic more naturally and engagingly.
As TikTok continues to innovate and refine its advertising capabilities, there may be further opportunities. By learning about TikTok search ads early on, businesses can position themselves ahead of the curve and maximize the benefits of this ad innovation. With its immense popularity and continuous growth, TikTok remains a dynamic platform for businesses to explore and unlock their advertising potential.