In a recent comparison of average daily usage, TikTok nudged out YouTube by a slim margin, 47 minutes to 46, among U.S. users, but have TikTok's Brand Safety tools kept pace with the more established competitors? The explosive growth of this popular short-form video app both viewership and content, has led to questions about its advertising effectiveness and safety. It's worth noting, however, that two out of three TikTok users view the platform as a safe haven for content.
Exploring TikTok's Effectiveness in Prioritizing Brand Safety and Suitability for Advertisers
With a global footprint spanning 150 countries and an anticipated ad expenditure projected to hit 1.77 billion U.S. dollars by the close of 2023, TikTok provides substantial opportunities for advertisers. Yet, given these promising opportunities, addressing brand safety concerns should be on top of the list.
This comprehensive will guide will discuss the nuances of TikTok Brand Safety tools to fortify your brand's reputation.
How does TikTok Uphold Brand Safety and Suitability for its Community and Advertisers?
The importance of brand safety cannot be overstated. As proof, a Statista survey revealed that 80% of respondents actively expect ads to avoid harmful content. Avoiding any association with inappropriate material is critical to maintaining brand integrity and safeguarding advertising investments. Even a slight misstep can profoundly cost a brand's reputation in today's hyper-connected world.
Though TikTok is comparatively new to addressing brand safety concerns, the dynamic platform has introduced different tiers of solutions. One notable feature is TikTok's recommendation systems. This safety filter aligns content to its eligibility-for-recommendation policies before being featured on the 'For You' Page (FYP).
Videos currently under scrutiny, newly uploaded content, and those suspected of artificially inflating engagement may not pass the recommendation criterion. Such precautionary measures prioritize user safety and contribute to the TikTok user experience.
Related article: Addressing brand safety measures for Google advertising
Understanding the Differences Between TikTok's Brand Safety and Suitability Solutions
TikTok's commitment to brand safety and suitability spans all advertiser categories. Their key focus is fostering a secure environment where video ads harmoniously run alongside safe and suitable content. The following sections will highlight the differences in TikTok brand safety and suitability tools.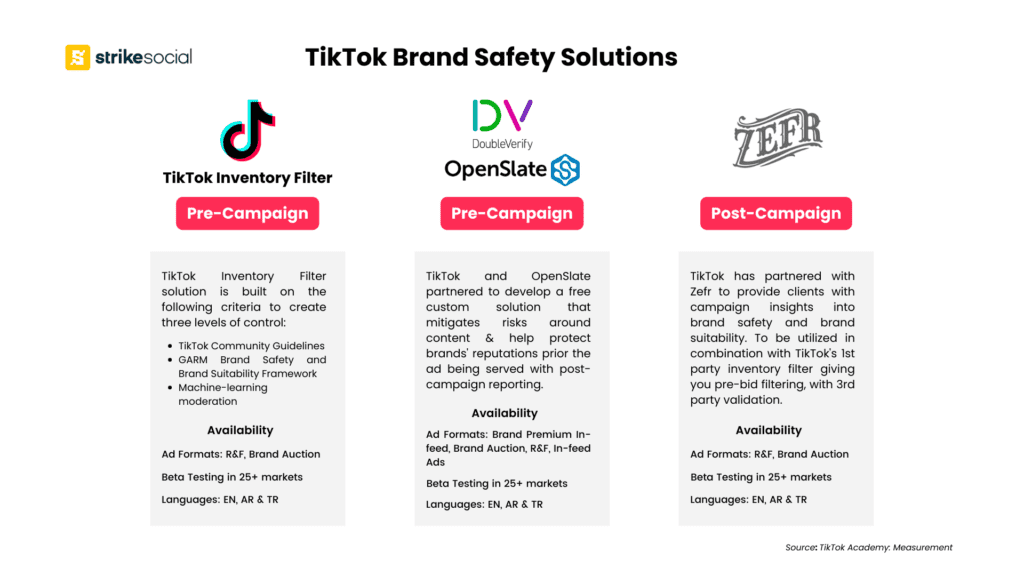 Pre-bid solutions, such as OpenSlate, assess content before the ad is placed, providing a proactive shield against potential brand misalignment. Using machine learning, OpenSlate effectively categorizes content, assessing its suitability and aiding brands in navigating possible risks.
In contrast, post-bid solutions like Zefr scrutinize content following the ad campaign flight period. This solution offers actionable insights and reports on ad-adjacent content, helping advertisers better understand their campaign's surrounding environment. Zefr's safety standards align with all 44 GARM Brand Safety and Suitability standards.
How can advertisers access these tools and their ad format availability:
TikTok Inventory Filter Ad Formats:

Brand Auction
Reach & Frequency
OpenSlate Ad Formats:

Brand Premium In-Feed
Brand Auction
Reach & Frequency In-Feed Ads
Accessible Through TikTok Sales Team
Zefr Ad Formats:

Reach & Frequency
Brand Auction
Accessible Through TikTok Sales Team
Advertisers should carefully evaluate Zefr, OpenSlate, and TikTok Inventory Filter. By understanding these distinctions, brands can make informed decisions based on their needs and resources.
Get To Know TikTok In-App Brand Safety Solutions
TikTok's ongoing efforts to enhance in-app safety tools reflect its dedication to creating a brand-safe environment for all types of advertisers. The integrated app solutions are centered around three fundamental criteria: adherence to guidelines, brand alignment, and proactive moderation.
Guidelines Adherence: This ensures that all ads comply with TikTok's community guidelines, promoting content policy adherence.
Brand Alignment: Using the GARM Brand Safety and Suitability Framework, advertisers can ensure that ads resonate with their brand ethos.
Proactive Moderation: Advanced machine learning identifies potential concerns and preemptively mitigates risks.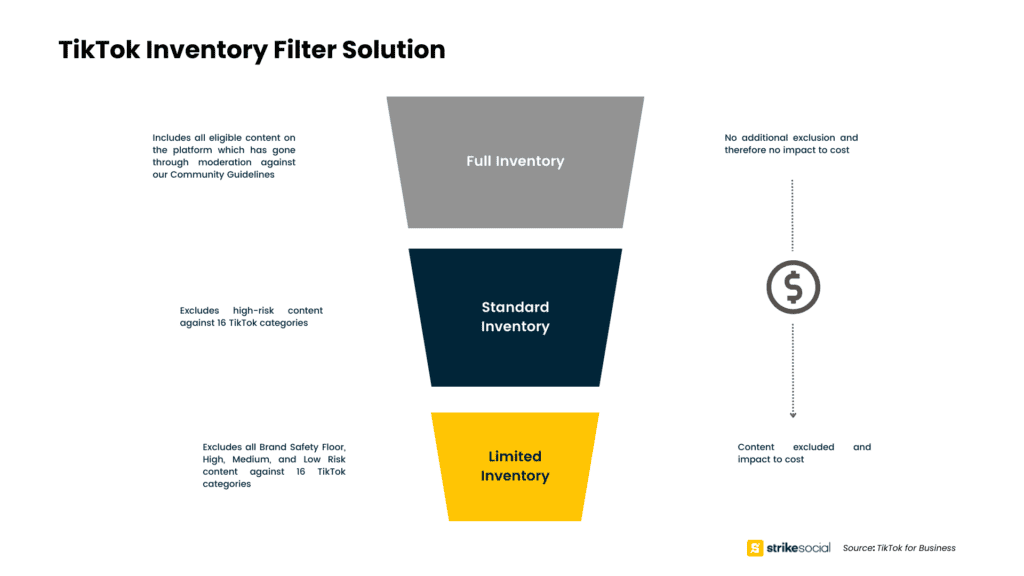 The centerpiece of these in-app safety solutions is the Inventory Filter. Built directly into the TikTok Ads Manager, it gives advertisers unparalleled control over their ad placements. With this tool, advertisers can dictate the type of content their ads appear next to, ensuring a secure and relevant advertising experience.

Furthermore, it allows advertisers to align their ads with preferred content environments, helping to evade categories such as:
Violent Extremism
Hateful Conduct
Illegal Activities and Regulated Goods
Dangerous Acts and Challenges
Self-Harm, Suicide, and Eating Disorders
Harassment and Bullying
Adult Nudity and Sexual Activities
Minor Safety
Integrity and Authenticity
Copyright and Trademark Infringement
Related Article: Guide To TikTok Inventory Filter: Safeguarding Brand's Presence
Get To Know OpenSlate's Brand Safety Solutions (DoubleVerify)
TikTok and OpenSlate, acquired by DoubleVerify, have established a strategic partnership focusing on brand protection, leveraging meticulous video analysis within TikTok's in-feed solution. OpenSlate's advanced analytics structure promptly identifies potential safety issues, preserving the brand's integrity. TikTok's integration of OpenSlate-verified videos assures advertisers of a comprehensive evaluation, building confidence for brands to engage their target audiences while safeguarding their brand image.
Benefits of OpenSlate for Brands and Advertisers
OpenSlate emerges as an innovative solution, offering numerous benefits to advertisers, including:
Enhanced Brand Safety: Using advanced algorithms and detailed content analysis, OpenSlate ensures brand-safe ad placements, cultivating consumer trust and loyalty in a secure advertising environment.
Performance Preservation: OpenSlate prioritizes both brand safety and high-performance campaigns. Advertisers can confidently engage their target audience and meet their objectives without sacrificing effectiveness or brand integrity.
Actionable Insights: OpenSlate offers post-campaign reports, providing invaluable data and metrics that allow brands to measure the success of their campaigns.
Related article: Role of A.I. Marketing in Driving CTV Advertising Growth
How does OpenSlate Brand Safety Solutions work?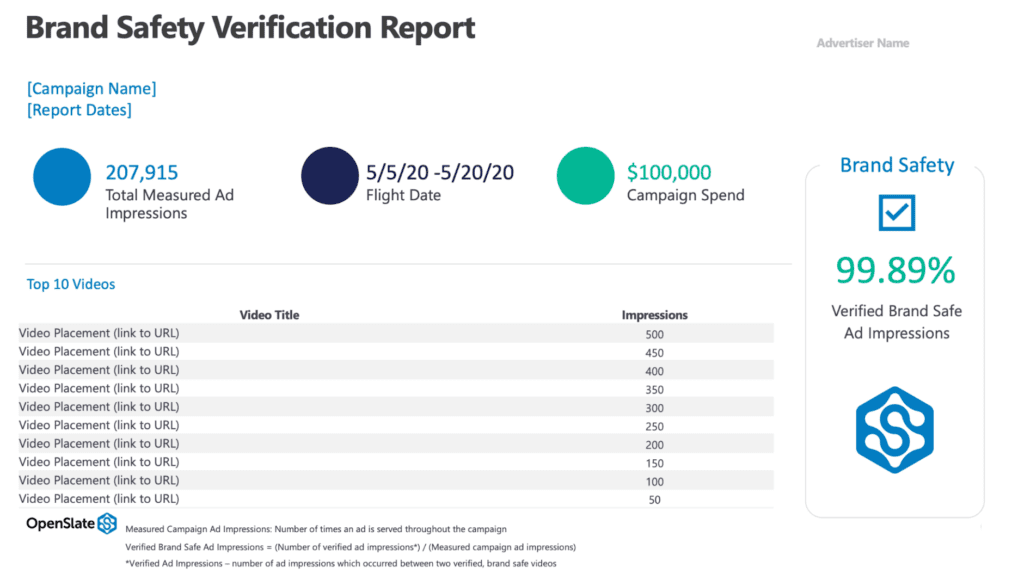 Pre-Campaign: Initially, TikTok shares curated videos with OpenSlate for brand safety analysis. Openslate then verifies brand-safe videos to enhance TikTok campaigns.
During Campaign: Ad adjacency to OpenSlate-verified, brand-safe videos is guaranteed by TikTok for brands employing the OpenSlate solution.
Post Campaign: Brands receive campaign reports detailing ad impressions, verified ad impressions, and the percentage of verified brand-safe content. Advertisers can learn any necessary campaign strategy that may help increase campaign effectiveness and brand safety.
Some important metrics included in the report are:
Brand Safety Verification Report: This report verifies the implementation of brand safety measures throughout the campaign.
Campaign Measured Ad Impressions: The total number of times an ad was served during the campaign, indicating the ad's overall reach and exposure.
Verified Ad Impressions: This metric focuses on the ad impressions delivered between two verified, brand-safe videos.
Verified Brand Safe %: This metric is calculated by dividing the number of verified ad impressions by the total number of campaign ad impressions, indicating the percentage of ad impressions served in brand-safe contexts.
Top 10 Videos Delivered: This section highlights the full 10 videos where the ads were delivered, providing insights into the ads' performance alongside popular content.
Videos Not Verified by Openslate: This section lists videos delivered before or after the ad impressions that OpenSlate did not verify.
By analyzing these metrics, advertisers can gain data-centric insights, assess brand safety measures, and optimize future TikTok ad campaigns.
Get To Know Zefr's Brand Safety Solution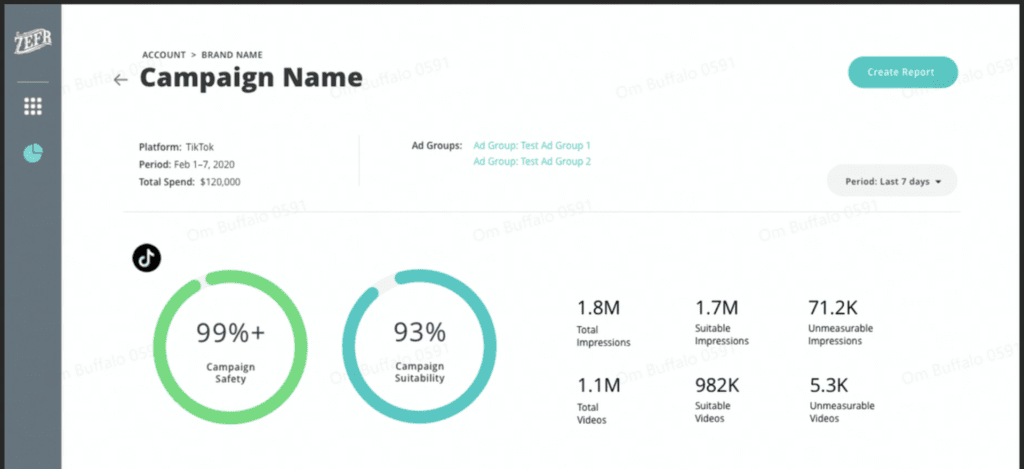 Zefr's post-bid solution offers robust insights in line with the 11 GARM categories, enabling advertisers to manage brand safety and suitability through a comprehensive dashboard. Combined with pre-bid solutions and TikTok's Inventory Filter, Zefr provides independent video-level verification of content adjacencies on TikTok, assuring brand safety and suitability via patented Cognition AI, compliant with GARM standards.
With Zefr, advertisers gain precise insights into ad placements, enabling end-to-end campaign management and optimization. Mapping to GARM standards eliminates subjectivity, establishing a trusted framework for evaluating brand safety and alignment. This fortifies brand integrity and reduces the risks of inappropriate content adjacencies.
Zefr's dashboard lets advertisers gain precise insights into ad placements, facilitating comprehensive campaign management and optimization. It eliminates subjectivity by aligning with GARM standards, providing a reliable framework for assessing brand safety and alignment. This solidifies brand integrity and reduces the risks of inappropriate content adjacencies.
How does Zefr brand safety solutions work?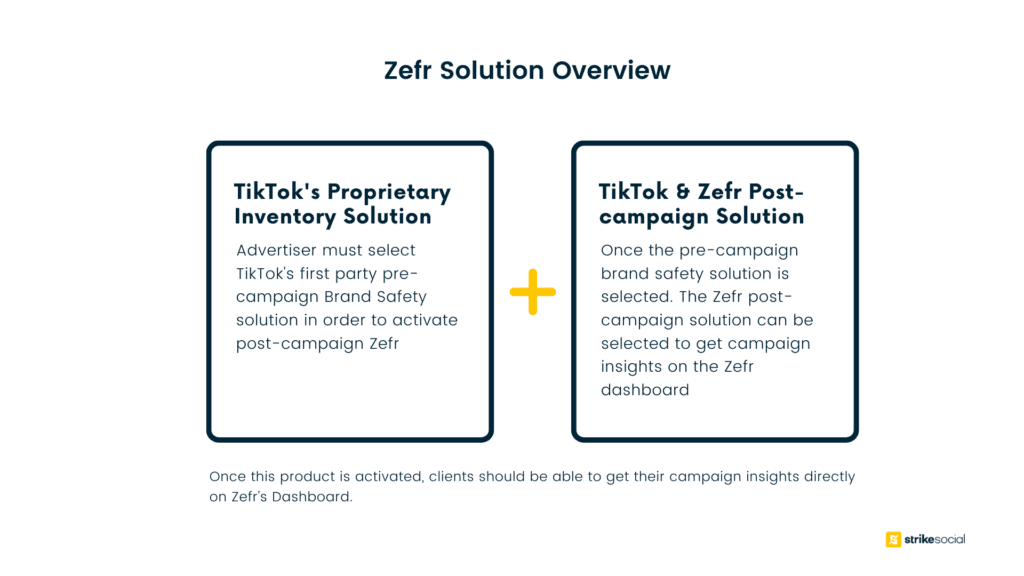 To harness the full potential of Zefr's post-campaign solution, a pre-campaign brand safety tool, such as TikTok's Inventory Filter or a third-party alternative, is necessary. However, it's important to note that neither pre-bid nor post-bid measurements can be applied once a campaign is live.
Furthermore, Zefr's language-agnostic solution ensures seamless language support for both pre-campaign and post-campaign analysis. Regardless of your chosen language for the pre-campaign inventory, Zefr will accurately reflect it in the post-campaign analysis.
Understanding Zefr's Post-Campaign Report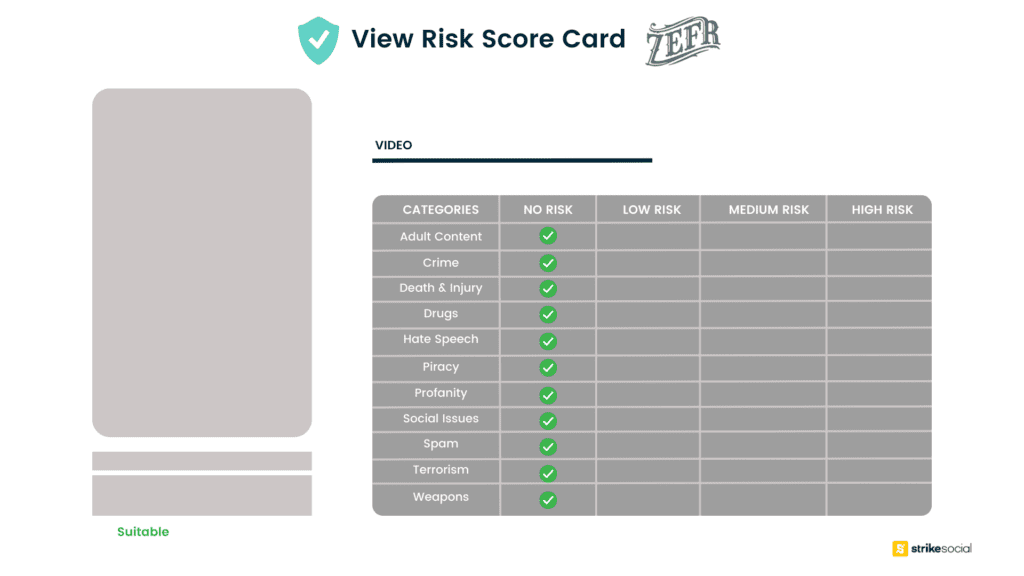 Zefr provides brands with comprehensive reports, delivering valuable insights spanning various categories, such as brand safety and suitability ratings.
Zefr's solution offers brands greater transparency by letting them understand their ads' precise placements. These placements map back to the Global Alliance for Responsible Media (GARM) risk categories, which include "No risk," "Low risk," "Medium risk," and "High risk" content.
Such reporting enables brands to comprehend the context in which their ads appear. This information empowers brands to make informed decisions, ensuring their ads align perfectly with their desired brand positioning and values.
Free Gift: Get this TikTok Brand Safety and Suitability Tools Cheat Sheet, specially designed for TikTok Media Buyers by experienced advertising professionals at Strike Social. Explore our comprehensive list of essential tools, features, and strategies that empower you to proactively manage your brand's presence on TikTok and maintain a safe and suitable environment.
Successful Implementation of TikTok Brand Safety and Suitability: Case Studies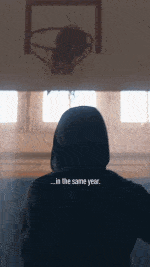 Adidas conducted a brand auction campaign focusing on TikTok's In-Feed Ads. Leveraging TikTok's Inventory Filter and Zefr, Adidas gleaned valuable insights into media effectiveness, achieving an outstanding rating of 99.9% for brand suitability and safety.
Campaign Goals:
Increasing views of In-Feed Ads as the central objective.
Engaging a specific audience, aged 18-34, interested in sports.
Upholding brand safety and ensuring brand suitability throughout the campaign.
Implemented Solutions:
Brand Auction Campaign: Adidas executed a brand auction campaign on TikTok, concentrating on their In-Feed Ads. This approach allowed them to present engaging content directly to their target audience in TikTok's dynamic setting.
Audience Targeting: Adidas harnessed TikTok's precise targeting capabilities to connect with sports enthusiasts aged 18-34. This strategic move amplified the campaign's impact by directing ads to the most pertinent users.
Emphasizing Brand Safety: Zefr's measurement aligns with all 44 GARM and IAB Categories across 53 languages, enabling brands like Adidas to gain essential insights and measurement tools. With a focus on brand safety and alignment, Zefr ensures brands meet brand suitability standards.
Results and Success Metrics:
Exceptional Brand Safety and Suitability Rating: With an impressive 99.9% rating for brand suitability and safety, Adidas demonstrated its dedication to protecting its brand image and ensuring a fraud-free content environment using TikTok's measurement tools.
Optimized Campaign Performance: The results reveal how Adidas leveraged TikTok's AI insights to obtain critical data and optimization recommendations. Consequently, Adidas refined its campaign strategies, boosting performance and the views of its In-Feed Ads.
Successful Audience Targeting: The campaign effectively reached sports enthusiasts aged 18-34, aligning the brand's ads with the most relevant audience. This strategic move optimized engagement and potential conversions.
This case study underscores how TikTok's measurement tools and Zefr's Post-Campaign Solution can enhance campaign performance and safeguard brand reputation. As a leading sportswear brand, Adidas achieved significant results using TikTok's brand safety tools, powerful AI insights, and precise targeting capabilities.
Related article: TikTok Analytics: Marketers' Guide to Understanding TikTok Ads Targeting
Mastering TikTok's Safety Measures with Strike Social's Expertise
At Strike Social, we recognize the power of both in-app and third-party brand safety tools offered by TikTok. We leverage these resources to successfully manage intricate campaigns, achieving brand suitability and positive ad adjacency. Our team offers the utilization of advanced brand safety tools, campaign management expertise, and granular targeting via our proprietary tool.
We are dedicated to empowering brands with knowledge and data-driven insights, facilitating informed decision-making that considers all available options, third-party or in-app solutions.
Partnering with Strike Social will help brands navigate TikTok's brand safety and suitability landscape. We provide optimal campaign performance by meticulously managing both in-app and third-party safety tools. Our expertise assures that your brand environment is protected, enabling you to leverage TikTok's features fully.
Discover how we can help you leverage TikTok's brand safety and suitability tools.