With 3.7 million new videos uploaded daily, accounting for approximately 271,330 hours of video content, it's clear that YouTube reigns supreme. It's no wonder that 88% of media buyers have chosen YouTube as their preferred video marketing tool, recognizing the unparalleled potential it offers. The numbers speak volumes, solidifying YouTube's position as the digital destination for businesses seeking to captivate and engage audiences.
However, as the popularity of video marketing grows, so does the need for effective management of harmful content. As a recognized global leader in campaign management, we understand the criticality of brand safety. In this blog, we will explore YouTube's strategies for managing harmful content and familiarizing ourselves with the controls and settings that empower advertisers to maintain brand integrity.
Know Where Ads Appear: Understanding YouTube Inventory Types
Video marketing has been at the forefront of marketers' minds over recent years. it's become an integral part of most marketing strategies. According to the Wyzowl State of Video Marketing Report 2023, 96% of marketers deem it important. Additionally, an impressive 92% reported a positive return on investment (ROI), illustrating the video's advertising potential.
Businesses and digital marketing agencies can protect their brands by understanding YouTube's harmful content management and harnessing ad safety controls. Also, they can enhance user experience and drive better results in video advertising campaigns.

This blog will provide insights into the comprehensive measures employed by the platform, such as the YouTube inventory types, allowing advertisers to have greater control over video placements.
How YouTube Proactively Manages Harmful Content
YouTube, as an open platform, faces the challenge of maintaining a balance between creative expression and protecting the community. By employing their 4 Rs in YouTube brand safety – Remove, Reduce, Raise, Reward – the platform strives to maintain a vibrant and inclusive community while empowering advertisers to safeguard their ads from controversial and sensitive content.
4 Rs – Remove, Reduce, Raise, Reward
REMOVE: YouTube uses a mix of human moderators and advanced machine learning algorithms to detect problematic content. Automated flagging systems allow the platform to detect and review content before it reaches a wider audience.

Additionally, this YouTube brand safety feature encourages its community and experts in the Trusted Flagger program to report potentially problematic content, ensuring a proactive approach to content removal.

REDUCE: Understanding the impact of borderline content, YouTube changed its recommendation systems. These changes aimed to reduce the watchtime of non-subscribed, recommended content. In the US alone, YouTube saw a 70% drop in watchtime of such content after implementing these changes. Continually refining its algorithmic recommendations, YouTube strives to keep the views of non-subscribed, recommended borderline content below 0.5%.
RAISE: YouTube acknowledges the importance of authoritative information, particularly in news, politics, medicine, and science. To address this, YouTube's brand suitability features include elements that prioritize authoritative voices in search results and recommended videos.

Features like Breaking News, Top News shelves, and information panels help users make well-informed decisions based on contextual information.
REWARD: The platform enforces strict brand suitability guidelines to protect against misuse, such as spam or impersonation. Advertisements are kept from controversial or sensitive content, with non-compliant videos facing limited monetization or ad restrictions. Continuous or severe violations could lead to suspension from the YouTube Partner Program.
Video Ad Safety Promise
With the Video Ad Safety Promise, YouTube automatically applies exclusions to prevent ad placements on controversial content, such as terrorist acts, nudity, and recent sensitive events. However, advertisers have additional control over their ad placements by setting up YouTube inventory types, allowing them to align their ads with their brand values and further safeguard their brand.
YouTube's brand suitability controls are crucial in empowering advertisers to curate their ad placements and establish a safe and suitable environment for their brand messages. By utilizing these settings, advertisers can navigate the diverse landscape of YouTube's content and avoid associations with content that may not align with their brand values or business objectives. This level of control ensures that their ads are seen in the context they desire, enabling them to reach their target audience effectively.
Content Exclusions in YouTube Ad Campaigns
YouTube understands that even policy-compliant content may remain unaligned with advertisers' brand values. That's where these YouTube brand safety settings come into play, providing additional control to exclude specific types of content that may not be suitable.
These settings are designed to empower advertisers with granular control over where their ads are displayed and ensure that their brand is associated with content that aligns with their values.
Content Types
To maintain brand consistency and relevance, advertisers can exclude specific content types from their video campaigns. This feature enables advertisers to avoid associations with content categories that may not align with their brand's tone or target audience preferences.
Embedded YouTube videos: These are videos embedded on websites outside of YouTube's website. By excluding this content type, campaign reach will only focus on videos hosted on YouTube.
Live streaming videos: This category includes live events streamed over the platform. You can exclude this content type so ads will only appear on pre-recorded videos to avoid potential complications associated with live-streaming events.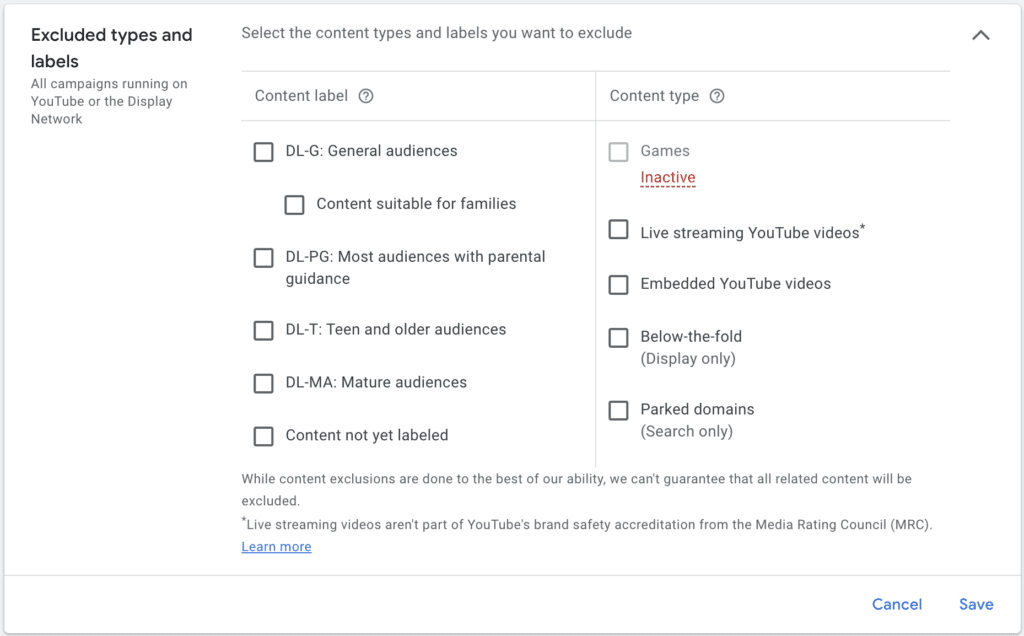 Digital Content Labels
YouTube employs advanced classification technology to assign digital content labels to websites, pages, videos, and apps within its network. These digital content labels are akin to movie ratings, such as G and PG, and provide an additional layer of information about the suitability of content for different audiences.
DL-G: Content suitable for general audiences (can also select "Content suitable for families")
DL-PG: Content suitable for most audiences with parental guidance
DL-T: Content suitable for teen and older audiences
DL-MA: Content suitable only for mature audiences
Not yet labeled: Content that hasn't been labeled yet because they haven't yet completed the classification process
Inventory Types
YouTube offers different inventory types that advertisers can exclude based on their preferences and brand suitability. The YouTube inventory types include:
Expanded inventory
Standard inventory
Limited inventory
What are the Different Inventory Types for YouTube Ads
By choosing the appropriate YouTube inventory types, advertisers can customize the reach and visibility of their video campaigns. Let's dive into the various YouTube inventory types and discover how they enhance brand suitability and customization for advertisers.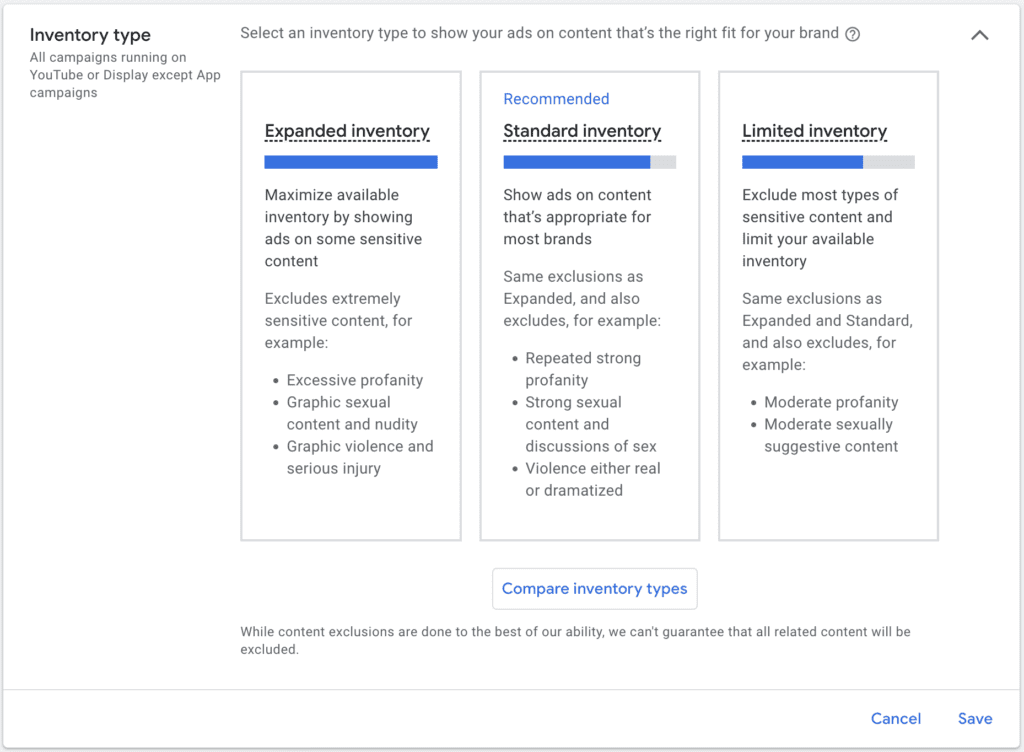 Expanded Inventory
With the expanded inventory option, advertisers can showcase ads on all YouTube and Google video partners that meet the monetization standards. This choice provides maximum access to a wide range of ad-eligible videos.
Standard Inventory
By default, all Google Ads accounts are opted into the standard YouTube inventory type. This option allows brands to display ads across a diverse range of content suitable for most brands. It includes popular music videos, documentaries, and movie trailers. The content available for ad placement adheres to YouTube's advertiser-friendly content guidelines, which consider factors such as the strength and frequency of profanity and the appropriateness of subject matter like sensitive events. Ads will not appear on content featuring repeated strong profanity, sexual content, or graphic violence.
Limited Inventory
The limited inventory option provides brands with exceptionally stringent guidelines on inappropriate language and sexual suggestiveness.
Videos included in this YouTube inventory type undergo additional scrutiny, ensuring an even higher level of scrutiny for inappropriate language and sexual suggestiveness. Consequently, ads will be excluded from appearing on some of YouTube's most popular music videos and other widely consumed pop culture content across YouTube and Google video partners.
Explore the following YouTube inventory types to discover the specific content categories included and excluded in each one: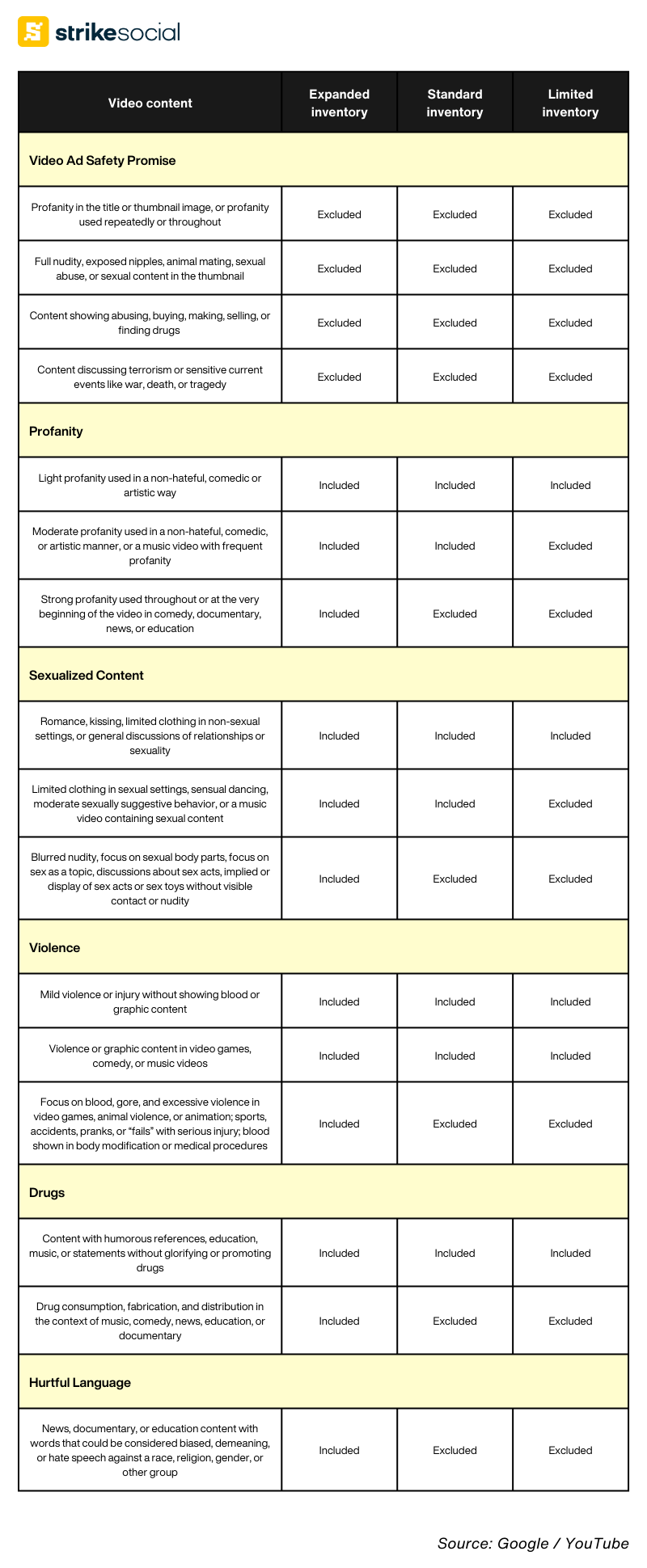 How to Set Up Content Exclusions for Video Ads
By adding multiple exclusions to ad targeting, media buyers can add another layer of security to make sure ads will not appear with harmful content.
Here's how to set it up content exclusions video ad campaigns:
When creating new video campaigns
Log in to your Google Ads account and navigate to the Campaigns section.
Click on the Campaigns icon and select the Campaigns dropdown from the section menu. Then, click on Campaigns to proceed.
Click the plus button to create a new campaign.
Choose one or more goals that best align with your campaign objectives. If none of the predefined goals fit your requirements, select the option to create a campaign without goal guidance.
In the "Campaign type" section, select "Video" to create a video-specific campaign.
Enter the necessary information to create your campaign.
Locate the "Content exclusions" panel within the campaign settings.

Click "Inventory type" and choose the appropriate inventory type that suits your video campaign requirements.
Under "Excluded types and labels," you can exclude specific content types and digital content labels from your video campaign.

Proceed to create an ad group within your campaign and craft a compelling video ad. You have the flexibility to complete these steps later if you prefer.
After completing the necessary configurations, click "Save and continue" to finalize your campaign setup.
When editing an existing video campaign
Click on the Campaigns icon from your Google Ads account to access the Campaigns section. Then, click on the Campaigns drop-down in the section menu.
From the Views bar at the top, select "Video campaigns."
On the left side of the screen, click on the page menu then click on "Settings."
Click on the name of the Video campaign that you want to edit.
Configure your settings as follows:

Inventory Type: In the "Content exclusions" panel, click "Inventory type" to select the appropriate inventory type for your Video campaign.
Excluded Types and Labels: Click "Excluded types and labels" and choose the specific content types and digital content labels you want to exclude from your Video campaign.

After setting this up, click "Save" to confirm your updated settings.
Setting up for all video campaigns
On your Google Ads account, click on the Campaigns icon.
Click on the "Audiences, keywords, and content" drop-down in the section menu, then select "Content."
From the tabs at the top, click on "Settings."
At the top of the page, click on "Account settings."
Under Content exclusions, update the settings for the following:

Inventory Type: Click on "Inventory type" and select the inventory type you want to apply to all Video campaigns in your account.
Excluded Types and Labels: Click on "Excluded types and labels" and choose the specific content types and digital content labels you want to exclude for all your campaigns, including Video campaigns.

Once you're done, click on "Save".
Note: Account-level control of content exclusions is only available in the new Google Ads experience.
Other YouTube Brand Safety Tools To Explore
In 2021, YouTube became the first digital platform to receive content-level brand safety accreditation from the Media Rating Council (MRC). This prestigious accreditation was granted to YouTube again in 2022, solidifying its position as the only platform with such recognition.
YouTube has actively collaborated with advertisers and agencies to understand their requirements better and establish best practices. This collaborative effort led to developing strategies like utilizing the different YouTube inventory types and reevaluating the necessity of excluding specific content categories. Advertisers who learned to navigate the YouTube brand safety controls effectively witnessed various performance benefits, including increased reach, higher view-through rates, and reduced cost-per-view.
The diversity of YouTube brand safety options presents greater control over ad placements across the Display Network and YouTube.
These additional brand suitability features are available for the setup of ad campaigns. However, note that these settings might influence the campaign's performance.
Excluded Sensitive Content
Applying content exclusion prevents ads from appearing next to content categories deemed sensitive for some brands. These exclusions apply to all campaigns running on the Google Display Network, except Video campaigns.
The following categories can be excluded:
Tragedy and conflict
Sensitive social issues
Profanity and rough language
Sexually suggestive content
Sensational and shocking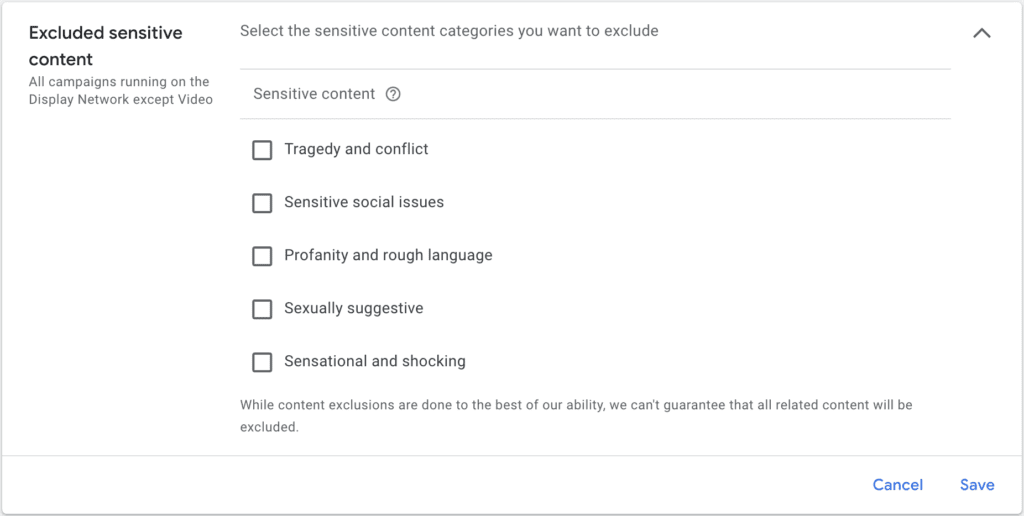 Excluded Content Keywords
Content keyword exclusions ensure that ads do not display on videos, channels, websites, and apps related to specific words. These exclusions apply to all YouTube or Google Display Network campaigns. Up to 1,000 content keywords can be excluded at the account level.
Keep in mind that content keyword exclusions only support exact matches. Additionally, it's important to consider that certain words may have multiple meanings. When excluding a content keyword, ads will be prevented from appearing on any content related to that word, even if the context differs from your intended targeting.

Excluded Placements
Placement exclusions prevent ads from appearing on specific videos, channels, websites, and apps that may not align with the brand or product. Up to 65,000 placements can be excluded, which applies to all campaigns running on YouTube or the Google Display Network.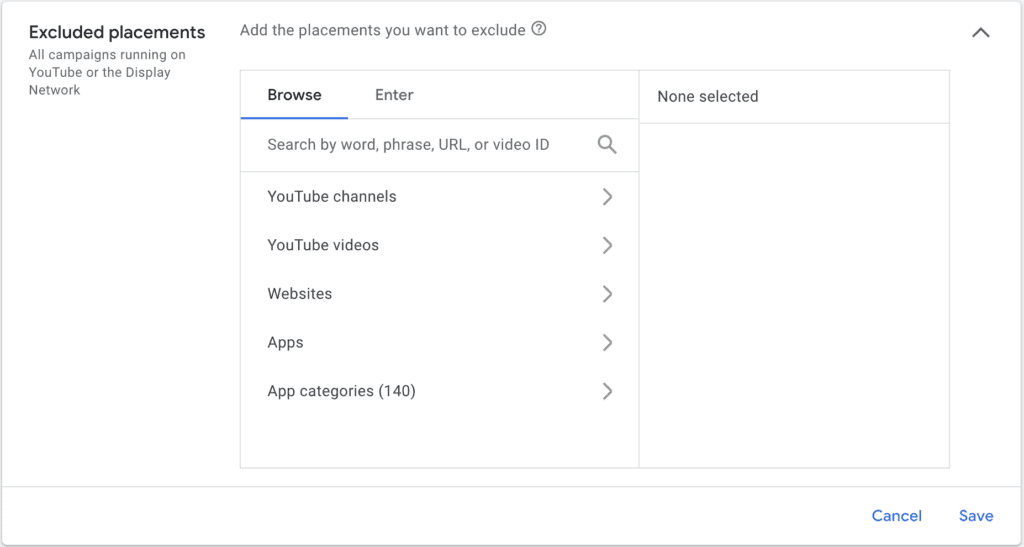 Note: While exclusions are done to the best of YouTube's ability, the platform cannot guarantee that all related content will be excluded.
Reinforce Brand Safety with YouTube's Ad Safety Resources
Ensuring YouTube brand safety and maintaining integrity are crucial considerations for advertisers. Fortunately, the platform has recognized this need and taken proactive steps to address it. Through their commitment to managing harmful content and implementing YouTube inventory types, YouTube provides advertisers with powerful tools to protect their brands and deliver a safe advertising environment.
By understanding the intricacies of the different YouTube inventory types, you can make informed decisions about where your ads appear. This knowledge empowers media buyers and advertisers to align ads with suitable content, confidently navigate the platform, and ensure brand safety while advertising on YouTube.