At the epicenter of the TikTok digital breakthrough lies an interactive tool transforming how social marketers fuel anticipation for their LIVE or Promotional content – the 'TikTok Countdown Sticker. With plenty of interactive add-ons for bidding and Reach & Frequency TikTok ad campaigns, advertisers can create a sense of urgency and paint a compelling narrative for their viewers. One success story highlights this feature's potential, with the 'Countdown Sticker' usage in In-Feed ads revealing an outstanding 43% higher Click-Through Rate (CTR) than video ads without interactive add-ons.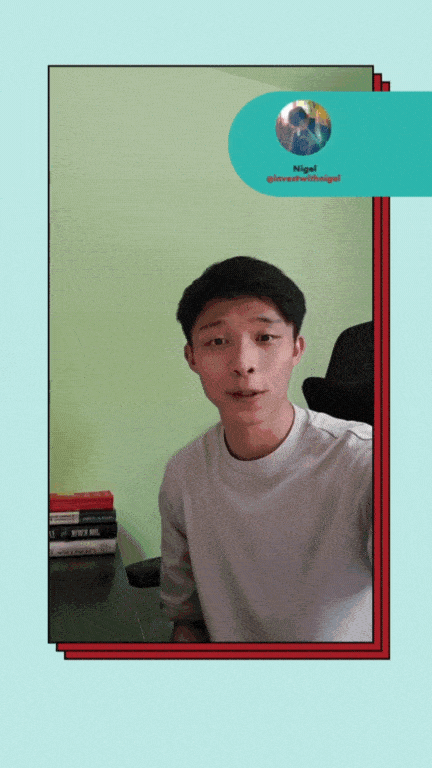 Initially known for its lip-syncing videos, TikTok has blossomed into a vibrant, commerce-centric entertainment hub. Amid exploding screen time across devices, capturing attention is paramount for advertisers. Brands like Samsung are already experiencing the power of this interactive add-on, with efficiencies improving by 17% during the teaser phase and 32% throughout the unveiling phase in their TikTok campaigns using the 'Countdown Sticker.'
TikTok Countdown Sticker captures users' attention, enhances commitment, and boosts engagement. For advertisers seeking to maximize the benefits of TikTok's Interactive Add-ons, this article will provide insightful guidance on leveraging these sticker features effectively.
Related article: TikTok Conversion Objective: Leveraging Short From Content to Social Commerce
What is a TikTok Countdown Sticker and its benefits?
TikTok countdown sticker is an interactive feature designed for In-Feed video ads. The highly engaging display sticker calculates the time left based on the viewer's time zone and visually pops up to fit the brand's preference. The impact of the ticking countdown extends beyond just grabbing attention – it actively encourages viewers to take action. Whether building excitement for an upcoming product launch or counting down to the start of a live-streamed event, it helps cultivate a sense of urgency among viewers.
What are the benefits of using interactive countdown stickers?
Have you ever pondered the effectiveness of TikTok's Interactive Countdown Stickers? The adage "time is of the essence" rings especially true in advertising. A well-executed sense of urgency is often the secret ingredient to capturing consumers' attention and inspiring them to act swiftly.

In essence, that's the driving force behind TikTok Countdown Stickers. When used strategically, these interactive add-ons bring a wealth of benefits to the advertising campaign. Here's a closer look:
Amplifying Brand Awareness. Countdown Stickers are a timely beacon, reminding viewers of an upcoming event. As the countdown ticks closer to zero, these interactive stickers increase in relevance, particularly among viewers who are highly interested in the brand or event.
Fueling Engagement. Engaged viewers are more inclined to interact with the Countdown Sticker out of curiosity about what's to come. Whether they're clicking on the sticker or leaving a comment asking for more details, this active engagement propels the content's visibility across the TikTok platform.
Catalyzing Lead Generation. Employing time-sensitive language such as "Limited Time," "Act Now," or "Exclusive Deals" is a powerful tactic. These phrases stimulate viewers to click on the ad and convert them into customers.
Interactive Add-ons such as TikTok countdown stickers help advertisers to reach wider audiences and drive engagement in the shortest time possible.
Related article: TikTok Brand Awareness Ad Objective: An Opportunity Media Buyers Should Know About
Step-by-step guide in setting up TikTok Countdown Sticker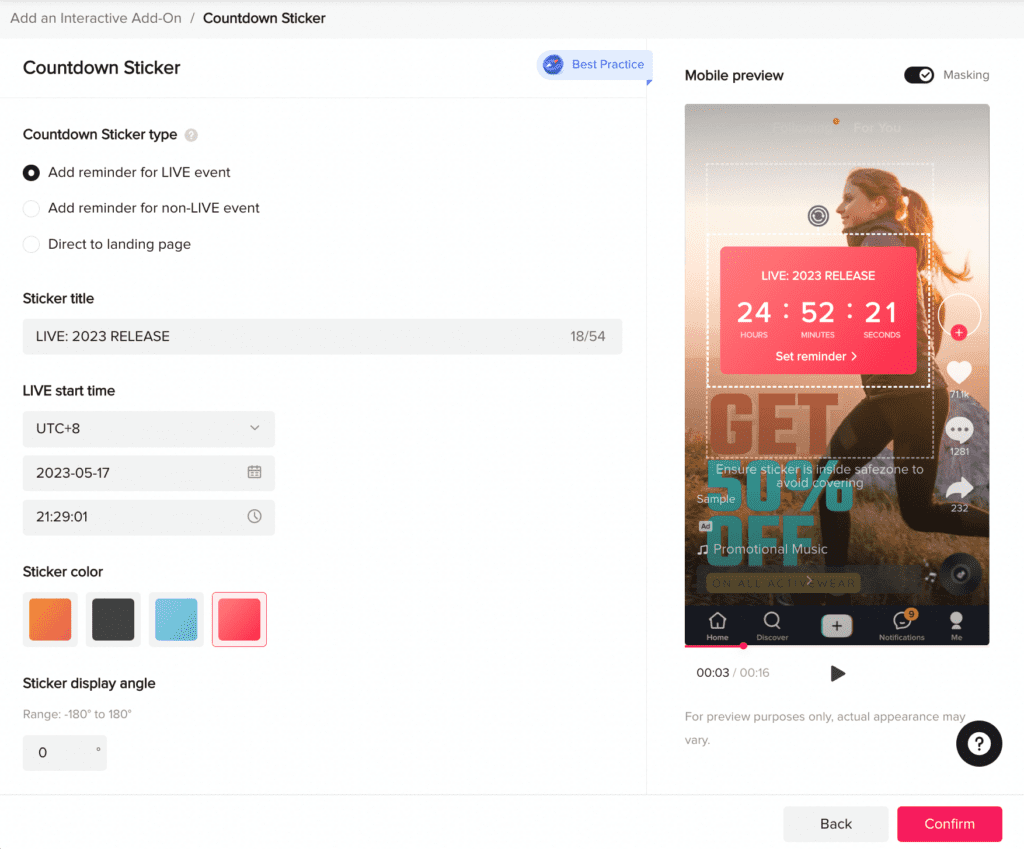 Enter the necessary information for your campaign and ad group.
Go to the 'Ad Creation' page and continue to 'Ad Details.'
Upload the selected video where you intend to include the countdown sticker.
Choose the countdown sticker type.

Add a reminder for a LIVE event
Add a reminder for a non-LIVE event
Direct to a landing page

Type the sticker title, keeping the text under 54 characters.
Set the LIVE start time or countdown deadline.
Pick a sticker color from available orange, black, blue, and red shades.
Adjust the display angle of the sticker between -180 to 180 degrees as desired.
Place your sticker within the safe zone using the X (50-61) and Y (141-473) coordinate ranges for accurate positioning.
Adjust the sticker size within the 60% – 110% range.
Set the sticker opacity between 70% – 100% based on your preference.
Offer viewers reminder time options: 1 minute earlier, 1 hour earlier, or one day earlier.
Set the destination URL, which viewers will visit when they click after the countdown ends.
Review your settings, click 'Confirm,' and then 'Submit' to complete your interactive ad.
Exclusive Gift: Get a free guide on setting up TikTok Countdown Stickers, specially designed for TikTok Media Buyers by experienced advertising professionals at Strike Social. Discover the art of creating mesmerizing TikTok ads that captivate your audience and keep them engaged from start to finish.
What are the best practices for using TikTok countdown stickers?
We have discussed how the timer can influence viewers to engage, but do all campaigns with countdown stickers end up the same? To make the most of this dynamic feature, here are some best practices for harnessing the potential of Countdown Stickers to promote events, generate FOMO, increase engagement, and boost brand recall.
How to Use Countdown Sticker to Promote Events and Generate FOMO?
Generating a Fear Of Missing Out (FOMO) taps into our intrinsic urge to stay relevant. Leveraging this emotion can prompt the audience to act swiftly, leading to potential purchases or sign-ups.
Here's how to build anticipation around the upcoming marketing push:
Schedule it right. Timing is crucial. Letting users discover the ad is important, but scheduling it too far from the event date might dilute the sense of urgency. Generally, a few days to a week before major events strike a balance.
Use time-sensitive language. Draw viewers in with appealing, time-sensitive phrases like "Don't Miss Out" or "Only a Few Days Left" to encourage heavy engagement with the ad.
Maintain branding. Customizing the Countdown Sticker's design to align with the brand can elevate event recall. Consider using event photos or actual products to stoke excitement.
Related article: How To Set Up A TikTok Product Catalog?
How to Use Countdown Sticker to Increase Engagement and Boost Brand Recall?
Adding the TikTok Countdown Sticker to video ads can help differentiate it from others, enhancing ad recall and anticipation. Here are some tips to maximize campaign effectiveness with this feature:
Add incentives. Reward early-engaged viewers with discount codes, exclusive early bird gifts, or additional discounts to encourage others to interact with the ad.
Use influencers' content. Employing interactive add-on stickers on popular organic content can boost ad effectiveness. For instance, TikTok Spark Ads with countdown stickers can efficiently achieve marketing goals. 
Get creative. Simply adding a countdown timer isn't enough. Consider incorporating trivia questions, sneak-peek content, or engaging chat prompts to capture viewers' attention more effectively.
Countdown Sticker Case Study: Amplifying Urgency in a Time-Bound Campaign
One of our clients aimed to increase its digital subscription through a one-day sales event. The team aimed to create buzz around the event using a three-phase campaign. There were creative swaps following the strategy, but two distinct video ads were deployed – one with a TikTok Countdown Sticker and one without.
Leveraging the engagement-rich nature of the TikTok community, we targeted the same demographic with both ads, focusing mainly on the younger audience. As the campaign progressed, we fine-tuned our strategy, optimizing for audience segments that performed the best. Amidst the similarities of the creatives, the TikTok Countdown Sticker emerged as the critical differentiator.
The outcome of this tightly-executed campaign was a resounding success, delivering a Cost per Engagement below $0.80. Remarkably, the creatives featuring the countdown sticker outperformed their counterparts, providing a 14% lower Cost per Thousand Impressions (CPM) and a 7% lower Cost per Click (CPC).
The combination of Countdown Sticker that created a sense of urgency among viewers and optimization to the appropriate audience group proved to be a winning strategy. This case study is a testament to the power of Interactive Add-ons and smart targeting, showcasing how well-executed strategies can generate excitement and drive action, even within a tight timeline.
Countdown Stickers Creates Urgency in Consumers and Efficiency for Media Buyers
TikTok has revolutionized the world of social media, nurturing a deeply engaged and responsive community. Numerous trends have taken root from its thriving user base, and new facets of pop culture have emerged. Amidst this vibrant setting, the hyper-connected nature of viewers presents an enticing opportunity for brands. Utilizing features such as TikTok's Interactive add-ons can elevate campaigns, fostering a deeper connection with viewers and propelling brands to new heights.
The Interactive add-ons, specifically the TikTok Countdown Stickers, harness the power of anticipation and urgency. They are more than just fun add-ons; they are powerful marketing tools. These dynamic add-ons help amplify messages, spur engagements, and drive actions.
However, unlocking the full potential of these features requires a thorough understanding and a strategic approach. This is where our expertise comes into play. If you want to delve into the world of TikTok ads and make the most of these dynamic Interactive add-ons, we're here to assist you.