When it comes to TikTok, tossing your video ad into the mix without a thought to TikTok ad creative policies won't cut it. With a potential reach of 109,538,000 in the US alone, TikTok commits to taking its ad content distribution seriously. Furthermore, every eligible ad undergoes a thorough examination to ensure it's community-friendly and meets stringent user safety standards.
Beyond analyzing the appropriate creative structure of a TikTok ad, an essential technical aspect of creating a TikTok ad is ensuring it adheres to the platform's video length limits and falls within the boundaries of the TikTok Ad creative policies. Let this blog guide you on how to craft TikTok ad campaigns that are both compliant and effective.
Crafting Campaigns that Comply: Mastering TikTok Ad Creative Policies
During the era of the TikTok followers boosts, in early 2021, 1,829,219 TikTok ads were in the rejection pile. Moreover, this is due to these ads' non-compliance with TikTok's ad creative policies and guidelines. 
To avoid being shut down by the TikTok Compliant Team, advertisers must carefully consider the rules that govern which ads are permissible on TikTok and which aren't. To maintain a consistent and professional appearance on the platform, adhering to TikTok ad branding requirements is crucial for every advertiser.
Failing to comply doesn't just result in ad rejection—it can damage your brand's reputation and credibility.
What Are The Key Elements of TikTok's Ad Creative Policies?
Regarding TikTok's ad creative policies, there's more to consider than just the content of your video ad. Let's break down the essential elements that advertisers need to be aware of:
TikTok Ad Content Restrictions within Your Video Ad
While crafting your ad, you must familiarize yourself with TikTok ad call-to-action rules to ensure your audience is directed appropriately without violating any guidelines.
Prohibited and restricted content:
TikTok has a comprehensive list of businesses that are allowed and not allowed to advertise on the platform. Based on the line of business, you may not be able to advertise in the first place. In addition, the same rules apply to TikTok-sponsored content:
No display of tobacco & tobacco related products
No display of scenes of drinking (selected regions)
No display of any inappropriate content involving minors in any way
No display or mention of drugs & drug-related products
No depiction of dangerous or illegal behavior
No hate speech against any individual or group(s)
This also includes topics or content prohibited by TikTok ad creative policies:
• Smoking
• Adult & sexual content (Sexually suggestive actions through text, gestures, and clothing; Excessive female skin exposure)
Ad format:
Aside from the images or videos you use in your ad, TikTok makes a point to check that the texts and targeting used align with TikTok ad compliance. Visual appeal is paramount in TikTok ads, but aligning with TikTok ad image guidelines is equally important to ensure your visuals are captivating and compliant.
Grammatical or spelling mistakes
Spelling mistake(s) in the Ad Creative should be avoided
Ad language and targeting
Depends on the country – widely used language in the country of targeting must be used
Ad consistency
Ad Creative must be consistent with the promoted product or service on the Landing Page
Sensational and shocking content
Disturbing images
e.g. Severe skin conditions
Coarse language & insults
Blood & gore
Misleading claims and inconsistent information
Before and After
Exaggerated description
Performance promise
Malicious comparison (better than xx brand)
Absolute claims (#1 game…)
e.g. ad creative says 50% off, but LP says 25% off
Infringement protection
Copyright & trademark
Related article: A Guide To DMA Geo-targeting On Tiktok: Reaching Location-based Audience
TikTok Advertising Rules Outside Your Video Ad
TikTok's policies extend beyond the video ad itself. The linked landing page must also be under TikTok ad design guidelines. If your advertisement includes any claims or endorsements, follow the TikTok ad disclaimer guidelines to maintain transparency and trustworthiness.
Prohibited products or services, like gambling tools and certain weight loss products, must not appear on your landing page, regardless of what's being promoted in your TikTok ad.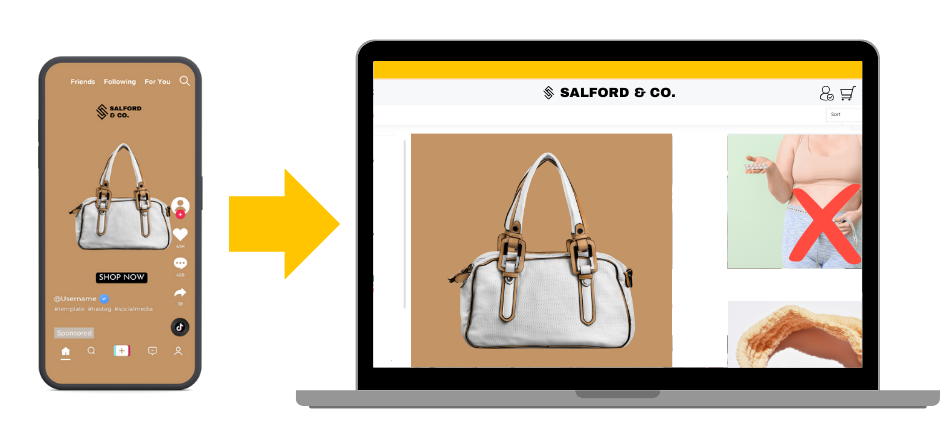 Suggestion: If you have other products on your website that fall under TikTok ad content restrictions, dedicate your landing page exclusively to the product you're advertising on TikTok. This ensures compliance while allowing you to market your full range of products elsewhere on your site.
Consistency between ad claims and landing page offers is crucial to avoid misleading users. For example, if you offer 50% off on your video ad, your landing page must not say 20% off. It must be consistent with your offer of 50% off on TikTok.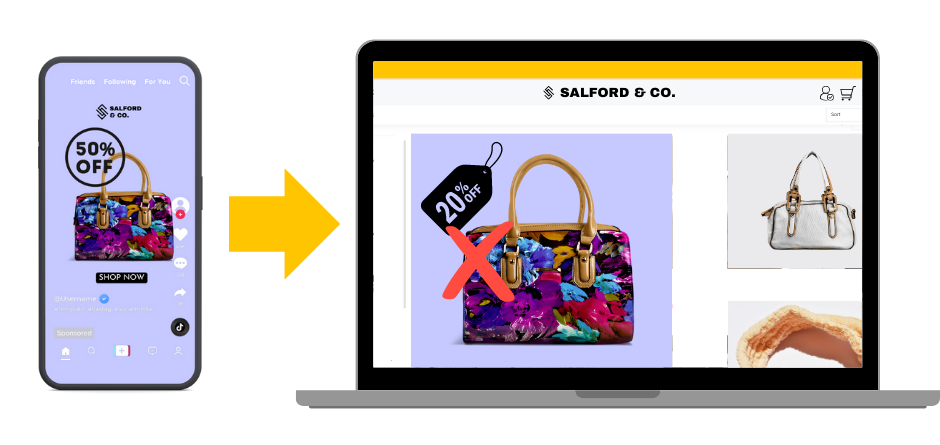 Suggestion: If you have distinct offers for different platforms (e.g., 50% off for TikTok users and 30% off for Instagram users), consider creating separate landing pages and checkout links for each promotion. Alternatively, employing platform-specific promo codes is a savvy way to maintain clarity and accuracy.
Related article: How does TikTok Uphold Brand Safety and Suitability for its Community and Advertisers?
What Are The Consequences of Violating TikTok Advertising Policies on Ad Creatives?
Before finalizing and submitting your ad for review, it's best to go through the TikTok ad compliance checklist, ensuring every aspect of your advertisement meets the platform's standards.
Rejected ads: The platform has a team of reviewers who carefully screen all ads as part of the TikTok ad approval process. It can be rejected if an ad violates the TikTok ad creative policies.
Ad bans: If an advertiser repeatedly violates the TikTok ad design guidelines, their ads may be banned from the platform. This means that you may no longer be able to run ads on TikTok.
Account suspension: If an advertiser violates TikTok's policies seriously, their account may be suspended. This means that the advertiser cannot use TikTok, including running ads.
It's worth noting that the TikTok Ad Review process might offer a lifeline for some rejected ads through the appeal avenue. Yet, envision how much smoother your campaign setup journey could be if you abide by the best practices for TikTok ad creatives and sidestep this strenuous process to gain swift approval.
Let Your TikTok Ads Captivate Attention and Sidestep Rejection
Grab attention and avoid rejection. Behind the scenes of this viral platform lies a rigorous evaluation process that every ad undergoes. Each ad that adheres to these policies becomes a catalyst for meaningful and impactful user interaction.
As you venture into TikTok advertising, remember that your ad's success isn't just about being seen; it's about adhering to the platform policies to get your brand out there. Compliance with the TikTok ad creative policies charts the path to ad resonance, relevance, and lasting influence.