As the share of paid social increases, clients look where to move their ad budget, Facebook ads vs. YouTube ads. Hootsuite Social Trends 2022 Report indicated a 20.1% boost in social media video ad spending, amounting to $24.35 billion. As advertising technology advances, new social platforms and advertising solutions arise.

Advertisers are taking full advantage of the benefits brought by the competition: Facebook ads vs. YouTube ads. Which of the big social media favorites performed well last year, and where should most ad money go?

Drawing the line between Facebook Ads and YouTube Ads
Video content creation has been steadily rising for both organic and paid social. Based on Marketingcharts.com, the average view time on B2B content consumption surged to 63% last year. In fact, 35% of marketers choose to produce more video content to keep up with the demand.

With abundant high-quality inventory available on social platforms, Facebook and YouTube Ads can reach more engaged audiences making social advertising more effective.

2022 Expectation on Facebook Ads
Apple iOS 14.5 security update might have altered ad targeting capability but businesses of all sizes will continue to count on Facebook advertising. Until now, Meta, the rebranded Facebook, still holds the most users. Based on Statista.com, there are 262 million monthly active users on the platform. Outside having more eyes on Facebook content, here are some things marketers should expect on Facebook ads this year.
Adapting to Facebook ad targeting changes
Meta had rolled out the changes in their Facebook Ad Manager last January 19. It includes eliminating some detailed targeting options under race, ethnicity, sexual orientation, religion, political beliefs, and health causes.

Graham Mudd, Meta's VP of Product Marketing, stated, "We've heard concerns from experts that targeting options like these could be used in ways that lead to negative experiences for people in underrepresented groups."

Mr. Mudd shared top tips for brands in keeping up with Meta's ad targeting update.

Media buyers can maximize "Engagement Custom Audiences" on the Facebook ad manager in reaching out to Facebook users who have shown interest in their content or page.
Creating Lookalike Audiences from the existing Engagement Custom Audiences will help broaden ad reach.
For businesses targeting local consumers, Location Targeting can be an option to increase product discovery through Facebook advertising.
How's Facebook Advertising after iOS 14.5 update?
Quick answer, cost-effective. The App Tracking Transparency (ATT) has caused advertisers to scramble to adjust Facebook ad campaigns due to the data restriction. Emarketer's Behind The Numbers podcast cited only one out of five are opting-in to ATT.

With Apple hampering third-party data, media buyers lean on Facebook Ad Manager's ability to target precise audiences through native engagements. Using Strike Social data, Facebook ad campaigns optimized for Views, Engagement, and Followship have been more cost-efficient.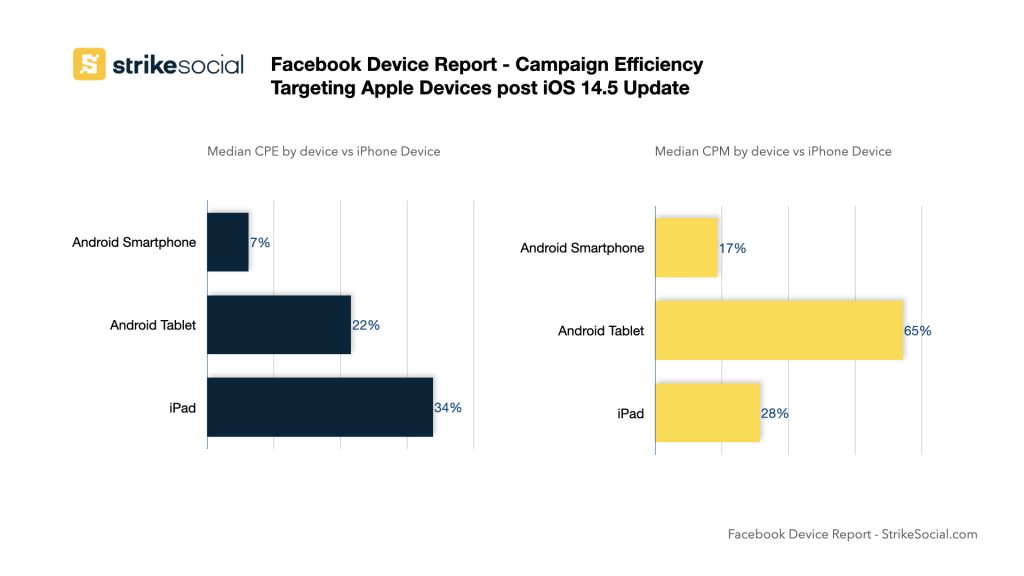 In aggregate, 2/3 of ad spend on Android devices resulted in underperforming Facebook Ad Impressions, Link Clicks, Page Engagements, and Reach. Improved Facebook Ad Costs are more evident for clients retargeting platform users than tracking activities outside Facebook.

2022 expectations on YouTube ads
In this new age of viewership, popularity, and relevancy rely on the video viewers' behavior. According to the 2022 Nielsen Advertiser Playbook, 142 million American adults consume media on CTVs or TV devices connected to the Internet. Eyeballs on streaming video have seen a 51% growth over the recent years. Making AVOD and SVOD the primary choice of household viewers.

YouTube Ads on Bigger Screen
Related: YouTube vs. Instagram vs. Meta Statistics: Who Wears the Social Media Crown
Brands put a tremendous amount of money into producing video advertising. So how much did the 2022 Super Bowl ad cost? An average cost to air a 30-second TV commercial during the championship event is $6.5 million. Companies are expanding their video advertising through digital platforms through an always-on campaign.

A week before the Big Game, major brands have released their Super Bowl Ads on the top three social media platforms: YouTube, Facebook, and Instagram. YouTube Ads have the most captured viewership among the three mentioned.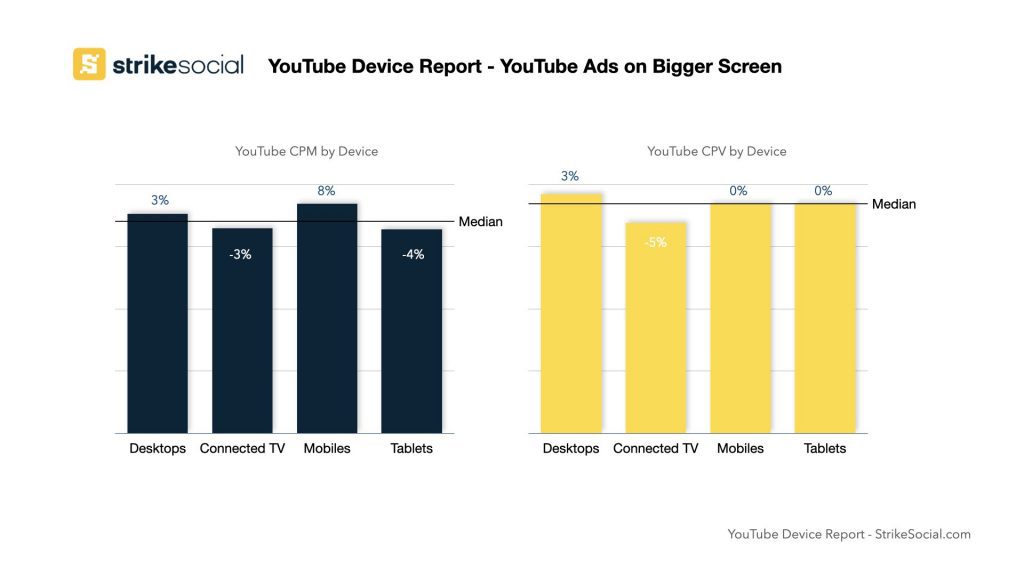 Related: Download the YouTube 2021 YouTube Insight Report
Video advertising on mobile might still have a significant market share, but YouTube on desktop, tablets, and most especially CTV have been gaining traction lately. Using CTV as a comparison baseline, tablet CPMs are relatively similar, and YouTube desktop and YouTube on Tablet video completion rates show a slight difference, regardless of the share of advertising spend. YouTube Ad on Connected TV is the runaway winner: 12% lower than mobile device ad cost, and 5% lower CPM than the handheld gadget.
Which is more effective: Facebook Ads or YouTube Ads?
There's no easy answer, but both paid social channels are effective in their own way. Brand's marketing agility in understanding how and where to reach their audience is the key to unlocking the full potential of Facebook and YouTube ads.
Based on the data, digital ad campaigns looking to leverage reach and impressions perform well on YouTube, thanks to the cable cutters and screen switchers. While Facebook ads gather more post interactions and help produce low CPCs for campaigns optimized for clicks and engagements

Many advertisers view these two platforms as competing paid social channels, but in reality, both are media buyers' tools in leveraging digital campaigns. Through granular targeting, ad relevancy, and optimization, companies can find new customers, widen brand visibility, and build product loyalty through social advertising. 

Win the next campaign and go from "Facebook Ads VS YouTube Ads" to "Facebook Ads AND YouTube Ads."