So, you're piecing together your B2B social media strategy and you've reached the tricky part: you need to determine which channels you'll focus your attention on – at least, initially.
You've outlined your goals and you've painted a clear picture of whom you need to reach with your social media activity, now you need to determine the best ways and places where you can do that.
Finding a social media platform that enables you to drive more traffic back to your website over time is ideal. This starts with considering your audience (unsurprisingly).
Will they prefer long-form or short-form content? How do they use social media – are they regularly checking all of their social accounts or do they leave all their social activity until later in the evening? Do they spend their time-consuming video content or do they prefer photos or written posts?
With that in mind, we've selected a few key B2B social media platforms that will help you drive traffic, and outlined a couple of key points that you should know about each.
The best social media platforms for B2B businesses
Let's kick off my mentioning how we're going to separate the good from not-so-good in relation to the best B2B social media platforms. We'll use several criteria and checks, but in short, we're on the lookout for:
Platforms that are business-friendly

Do they allow businesses to set up their own page, run ads, promote the fact they sell a product or service, etc.

Platforms that have regular activity and users

There are hundreds of micro-social media sites and apps, but while they might be excellent for niche audiences or content, you're going to struggle to get the volume of traffic that you would from the larger social platforms.

Platforms that have the potential to grow and add new features

This is important for you as you grow your own business page/account, but also in general from a user retention perspective. If users are going to get bored with a social platform they'll eventually leave it.
LinkedIn
Let's start with the obvious option for all B2B social activity. LinkedIn has quickly gone from being an online CV to so much more than that. In the last 24 months, they've rolled out a series of new features to make the platform much more engaging, and they've seen their user base grow to 562 million users across 200 countries.
If you're trying to reach B2B companies, this is probably your first port of call. You can create long-form or short-form written content, post videos or images, share business-related news and product updates, post directly to groups, and much more.
Twitter
This is dependent on your business, but in general, it's wise to at least have a presence on Twitter. Using the platform from a customer service or support angle can be incredibly powerful and helpful.According to Sprout Social's 2018 Social Index, "half of all consumers have taken to social media to raise questions and concerns to brands." One of the first stops is Twitter, where you'll find brands like Samsung using a separate account for country-based support.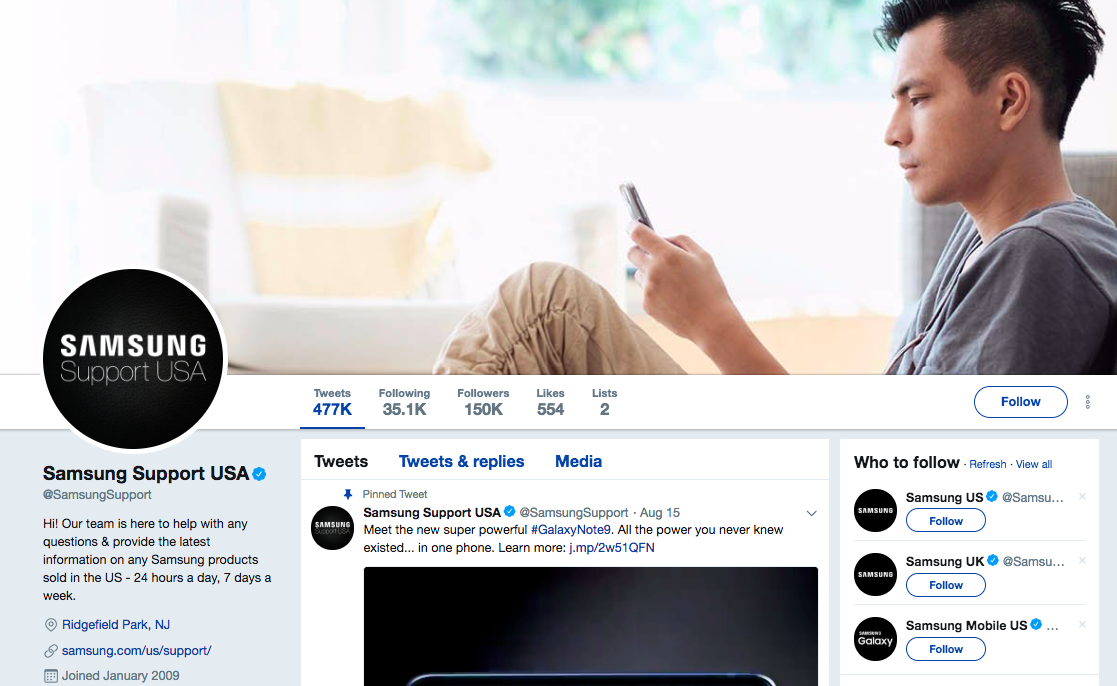 Facebook
If you're really looking to drive traffic to your website and scale your B2B social media strategy you need to have a Facebook presence. Creating a business page takes literally a few minutes and it's arguably the fastest way to establish an online social following on a platform.
If you're struggling to see how Facebook is a worthwhile approach when you're targeting business-only users, it's not unheard of for some B2B companies to thrive on the platform by using their powerful ads.
A cloud hosting company got new business leads from Facebook ads and a whitepaper for $59 each. Some ads even brought in new leads at $29 apiece.
On the topic of unexpectedly good performance, don't be put off a platform just because it hasn't worked for other B2B companies. Snapchat, Instagram, YouTube, Pinterest and many more social platforms can be and have been, used by some B2B companies to generate vast amounts of traffic and leads.