TikTok is reinventing the traditional marketing funnel with an "Infinite Loop" of social discovery and creativity. Its unique combination of commerce and entertainment is changing how people communicate and purchase. It's no longer a choice between selling and entertaining with video; the selling has become entertainment.

With the Infinite Loop marketing funnel, the retail path to purchase is not linear and has four customer journey stages. And TikTok is winning at every step of the purchase funnel:

Discovery – 1.7x more likely to drive product discovery, leveraging campaigns' Reach and Engaged views, resulting in lower CPMs.
Consideration – As search intent increases on the app, TikTok is 1.4x more likely to boost product research. At the same time, ads are receiving more clicks and page visits.
Review – 1.4x more likely to encourage purchases through consumer content behavior and product reviews.
Participation – 2x more likely to inspire purchases and post engagements.
TikTok's infinite loop algorithm for conversion campaigns creates more meaningful and dynamic engagement with users based on their interests and content behaviors.

Related article: Advertisers Convert Facebook Ad Money to More TikTok Ad Spending
TikTok Shopping Ads Consumers' Path: Catalog to Check out
The enthusiasm of TikTok fanatics can be converted into sales, harnessing the power of Shopping ads. Brands can benefit from the new commerce ad suite on TikTok by:

Streamline purchase experience by unlocking three new ad formats through TikTok Ad's Product Sales objective.
Unleash more opportunities through the Product Catalog. TikTok is boosting organic content by adding links to the digital storefront, making shopping easier.
Meeting shoppers throughout the buying journey through advanced targeting and fully automated creative features that reach audiences most likely to convert.
TikTok is launching Shopping Ads to bind its community, entertainment, and e-commerce. Through the three latest formats, it can help brands market and sell their products by promoting them on the profile page's product showcase tabs.

Related Article: Elevate Organic Growth with TikTok Spark Ad
How to set up TikTok Catalog?
TikTok's Shopping Ads allow advertisers to create a catalog of products they want to promote. It will enable brands to showcase specific products with up-to-date information, such as price and availability.

How to set up?
1. Log in to TikTok Ads Manager. Select Assets > Catalog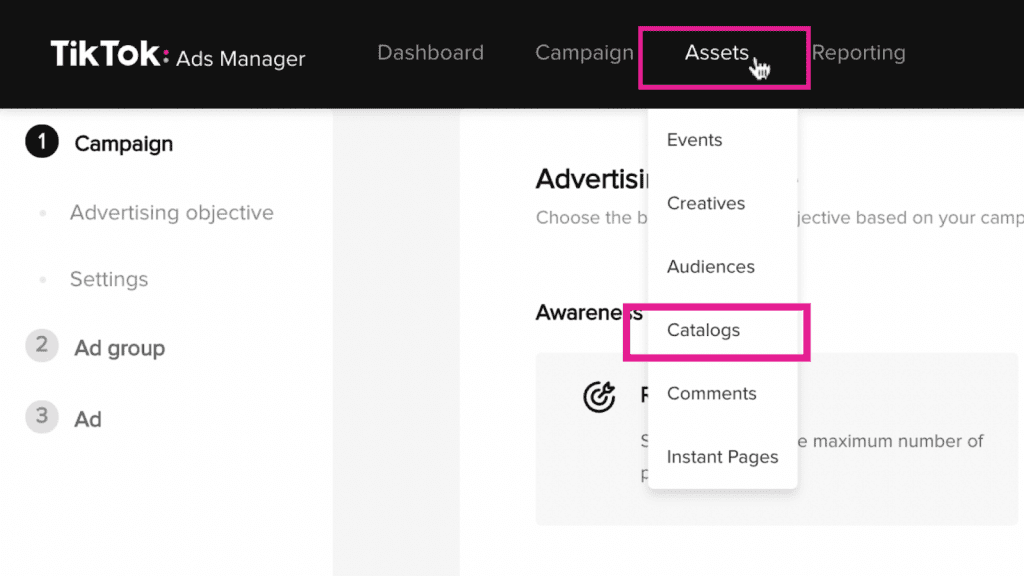 2. Enter the following information:
​Industry
​Catalog Name
Catalog Owner
Default Currency
Targeting Location
3. Once filled out, click Create.
How to add products?
There are three different methods to add products to your catalog:

Three ways to add products to the catalog include:
Manually Add Products: Insert products to the catalog by filling out a form
Data Feed Schedule: Upload products from an online file to the store
Upload file: Attach products through the provided template
Add products to a catalog by:
Select a catalog to add products.
To do this, select the catalog from the catalog home page
Once the catalog is opened, pick another one from the drop-down menu on the left
1. Under Manage, click Products > Add Products
2. Download a CSV, XML(RSS), or XML(ATOM) version of the standard product template after bringing up the Upload Product module.
3. Add the products to a catalog by brands' preference
What are TikTok Video Shopping Ads?
Video Shopping Ads recognize shoppers' intent to purchase through user behavior. With TikTok's hyper-relevant targeting, highly-engaged audiences are more motivated to create action toward the ads. TikTok developed this with hyper-targeting and a better user experience. This new ad format provides benefits to advertisers such as:

In-feed video ads target smaller, more distinct audience units, making it easy for advertisers to highlight different products, and encourage viewers to take action
It shows videos of products on the For You page that shoppers can click to see more information and purchase.
How to set up TikTok Video Shopping Ads?
Brands can create Video Shopping Ads with a catalog as a product source. There are five main steps to do this:
​Use TikTok Business Center to create a catalog.
Upload the products to the catalog
Generate or upload the products videos in the catalog
Brands can do events integration between the catalog and TikTok pixel or measurement partner
Publish a campaign using the products in your catalog.
Who can use this ad format?
Available globally.
Video ads are only available to selected advertisers for beta testing
What is TikTok Catalog Listing Ads?
TikTok has created Catalog Listing Ads, which enable brands to promote products with shoppable listings without video assets. By showcasing campaigns on other app sections, "Recommended" or "Related Products," brands can leverage their presence to users with high intent to take action.

How can advertisers benefit from it?
To get started, upload the product catalog. Video assets are not required.
Reach millions of potential shoppers who have similar interests and preferences.
Get insights and analyze the top customers and products to use for sales.
Promote products by boosting product visibility in prominent positions.
This ad format automatically engages shoppers by showing products across their TikTok journey.
​Use best-in-class automation solutions to optimize ads for clicks or conversions.
Improve spending efficiency to lower costs, and boost traffic and conversions.
How does it work?
Catalog Listing ads allow users to discover products from brand catalogs. These products are then shoppable on the For You page. This ad format is still in beta testing and is currently being tested in the US.

What are TikTok LIVE Shopping Ads?
Live shopping ads promote live shopping streams through the For You page by directing people to the event.
How does it work?
Direct integration or partner integration can be used to set up TikTok Shopping
How to set up TikTok LIVE Shopping Ads?
1. Go to TikTok Ads Manager > Create New Campaign > Objective: Shop Purchases
2. Choose the brand's Shop and select a TikTok account as Identity.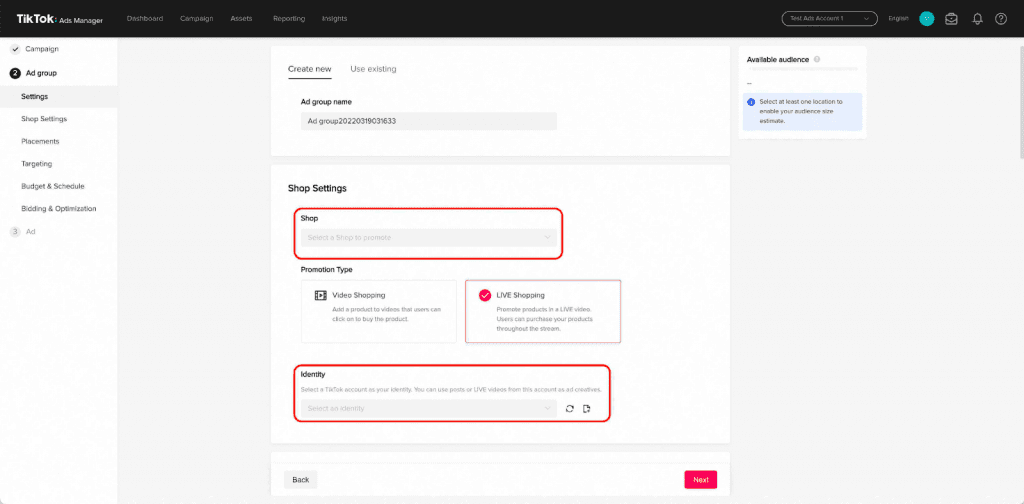 3. Schedule ad delivery to match the start and stop time of the LIVE video
4. Pick an Optimization Goal > Choose Standard or LIVE Video > Submit
Standard – shoppers will see the ad before entering the live stream
LIVE – shoppers will see the live stream directly in the ad
Who can use TikTok LIVE Shopping Ads?
Beta testing in the UK, Indonesia, Malaysia, the Philippines, Singapore, Thailand, Vietnam, and invited accounts in the US
Related Article: TikTok Analytics: Marketers' Guide to Understanding TikTok Ads Targeting
Reimagine e-commerce with TikTok Shopping Ads
By 2026, eMarketer estimates that 39.9% of US TikTok users will purchase on the platform. The growth of US app buyers is more than 10x compared to 2020. TikTok presents a concept called the "Infinite Loop," which makes TikTok advertising more versatile in creating a more hyper-personalized and impactful marketing experience. Despite being new to social advertising, TikTok gave marketers reasons to move advertising dollars to the platform. This trend will likely continue as TikTok's number of users and highly engaging video inventory grows.