Picture this: you're running a YouTube campaign, and you're confident you've selected the perfect target audience. You're running everything by the book — targeting the ideal demographics, perfect industry keywords, affinities and topics. Everything seems to be working great.
Why change a thing?
As with any advertising initiative, the key to YouTube advertising is testing. What you might think is the less-than-ideal target audience for your YouTube campaign may actually be what eventually drives conversions.
So let's say you decide to test another demographic or change up your audience groups. It takes time, critical thinking and analysis, but you learn that this particular audience is not only watching your ads but, to your surprise, they're even clicking on them.
Believe it or not, this scenario is completely achievable.
Related: YouTube ad targeting: Hit the target the first time
Using Strike Social technology, we've uncovered the insights to give you a sneak peek into undiscovered audiences you might be missing in your YouTube campaigns.
In this article, we'll break down those hidden audiences on YouTube by vertical based on average view rate (VR):
Automotive

Fashion

Gaming

Health & Beauty

Retail

---

What is view rate?

A view rate is the number of times your video ad has been viewed divided by the number of impressions. It is expressed as a percentage and shows how many people actually watched your ad. It's important to note that view rates vary by industry, market and creative impact.
---
Automotive
It's easy to assume that people in their mid-to-late 20s and early 30s are purchasing vehicles. It's likely that these individuals are targeted based on competitive automotive keywords and interests — car brands, auto parts, you name it.
You might also imagine weather- and sports-centric topics are popular targets and perform well, but there are far too many missed opportunities by simply targeting the average audience!
Our research revealed that parenting topics along with rock music fans and news junky affinities are also likely to respond to automotive adverts.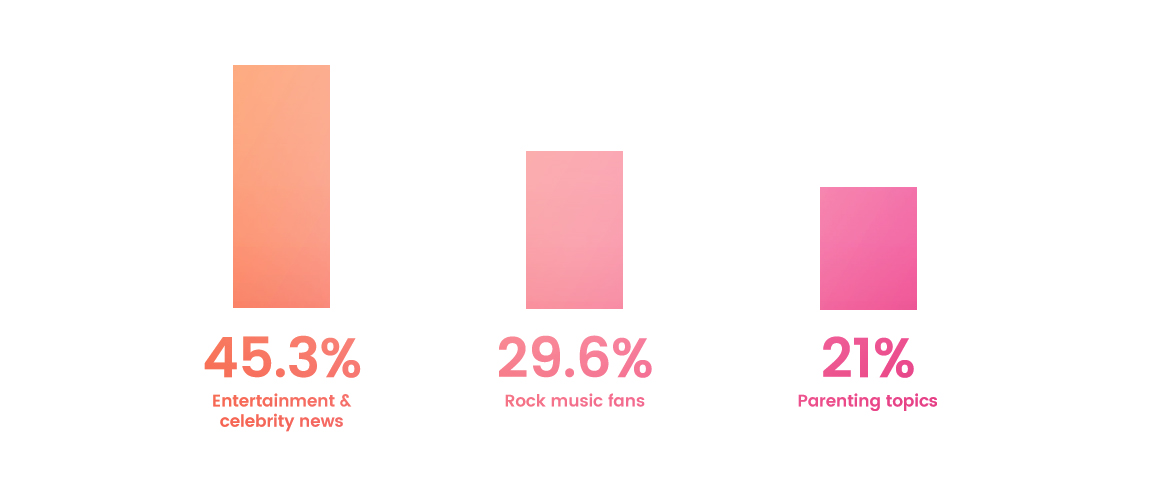 Country music also sees an above-average VR. Additionally, we found that family keywords fell within the scope of targeting, though that's not too hard to believe given car buyers must consider they're family when purchasing.
Fashion
As you can imagine, targeting anything and everything to do with fashion along with shoppers, fashionistas and business professional affinities will likely receive fashion ads positively. It's pretty much a given. But there are a few hidden opportunities worth testing.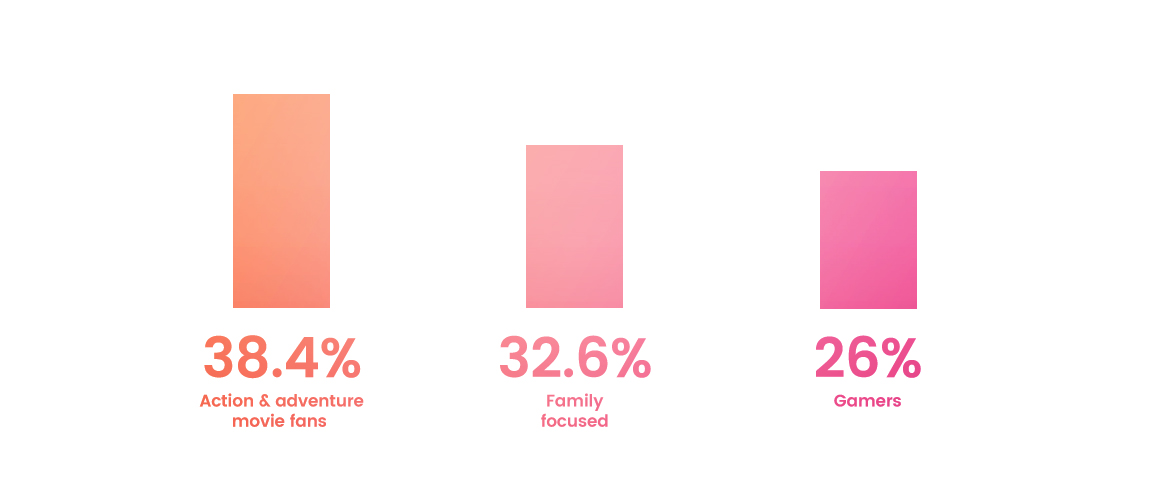 In our findings, we discovered that music lovers, music keywords, social media enthusiasts and TV show topics have respectable average view rates. That means, of course, that there are some potential customers that fall within these specific groups — or at the very least, individuals who may respond to your ads that you can identify and retarget.
Gaming
When it comes to gaming, targeting bargain hunters, music lovers and TV show topics stand a chance.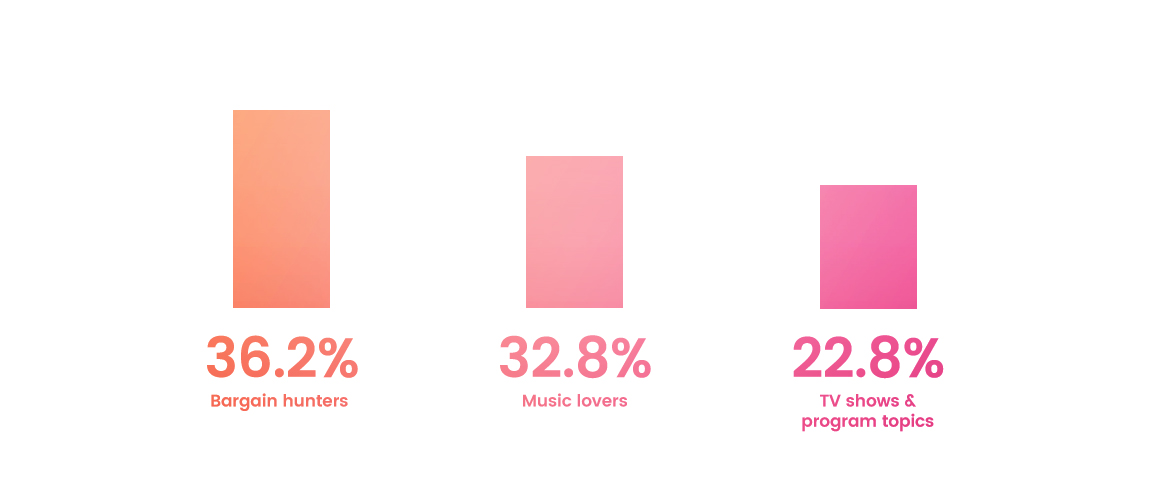 As you may have assumed (and assumed correctly), focusing on video game brands, sports, and action and sci-fi topics or keywords is the norm in the gaming industry.
So why bargain hunters? It's certainly an interesting out-of-the-norm affinity audience, but think about it: there's a plethora of collectors, thrifters and gamers alike that are keen on scoping out collectibles, games or consoles for reasonable prices.
Like fashionistas, gamers are also receptive to music topics and keywords.
Health & Beauty
Our data revealed some insightful findings for Health & Beauty.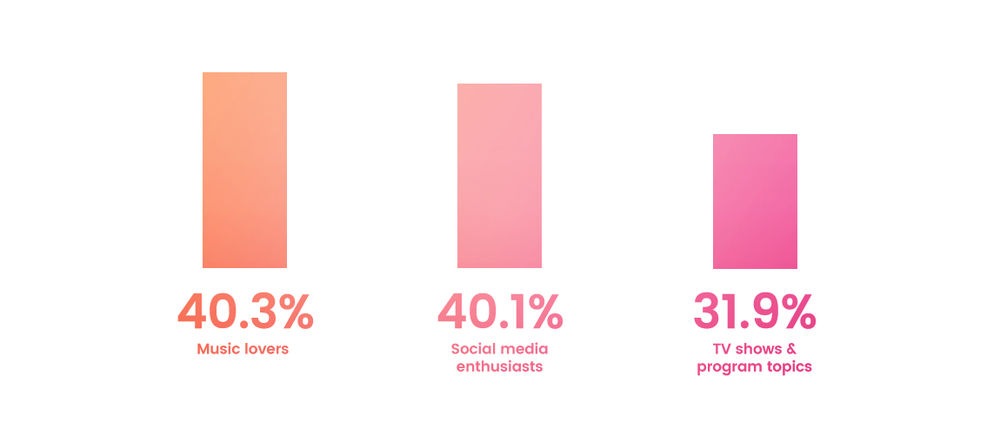 The audiences that surprised us the most are (you guessed it): gamers and action & adventure movie fans. Testing these affinities in your targeting efforts might actually earn you some surprising results.
When presented with a health or beauty ad, nearly 38.4% of action & adventure movie fans watch it. That's a pretty outstanding average VR, so it's worth testing to see how your ads could perform against this kind of audience.
Retail
Retail encompasses an infinite range of goods and services, so determining an audience will depend largely on your target market, age group and lifestyle preferences. As we're talking about retail as a whole here, these are the audiences that you may not have considered: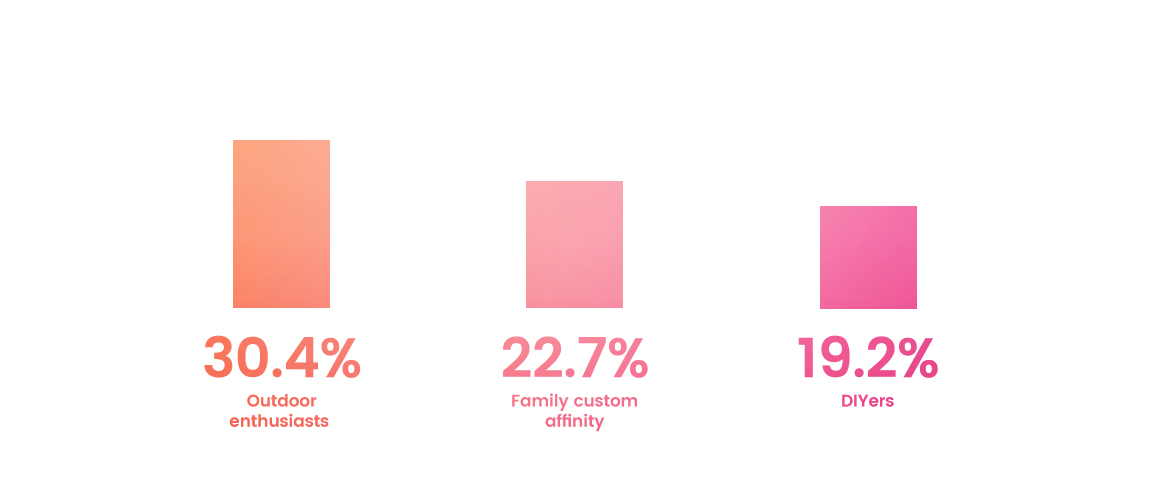 Of our findings, DIY affinity and keywords are perhaps one of the more unconventional audience segments for retailers. That's simply because DIYers are often lumped with bargain hunters — those who are trying to save money.
But that's not all they want.
They want to be inspired, and retailers may offer that certain something DIYers are looking for.
Finding unique audiences that respond to your ads
Discovering those audiences may seem daunting, but it's possible. It requires critical thinking and some rich data to give you the right insights to begin testing.
To begin your research, we suggest the following:
Look at your desired audience. Who are they? How would you describe them?

Sort through your contacts database.

Collect information from surveys or forms to learn more about your current customers.

Gather insights from your sales department

.

Who are they talking to? Who's responding?

Utilize a recommendation engine or collect industry data from various tools.
YouTube audiences aren't cut-and-dry
Everything isn't always what it seems. You may be targeting an audience that's getting money in your pocket, but there are others you may have never considered that could do the same.
These unconventional audience groups aren't going to be the end-all-be-all to your YouTube campaigns, but what you'll find is that there are untapped audience groups that may respond surprisingly well to your YouTube ads — perhaps by raising awareness or helping you identify potential customers likely to convert in the future.
The takeaway: never stop testing
After reviewing our data analysis, one thing is certain: never stop testing. There are far too many missed opportunities to always stick to mainstream targets.
While there are groups out there that may not always fall within your typical audience, those might be the same people who will become your customer down the road. The challenge is finding those people and understanding the correlation between their interests and your brand. That way, you can continue discovering audience groups that may, in fact, be on the lookout for your product.
There are audiences out there waiting to be uncovered, so keep testing.
Who knows — you may even discover that they outperform your average audience.
Schedule a demo of our YouTube advertising platform to learn how you can maximize your success and uncover new audiences.