Since its inception in 2019, Facebook's Inventory Filter has played a crucial role in fortifying the platform's commitment to brand safety. Meta, the company formerly known as Facebook, introduced this innovation as a strategic response to the rising concerns about hate speech, offensive content, and misinformation proliferating in News Feeds.
As part of a comprehensive approach, the Inventory Filter serves a vital purpose: to ensure that your advertisements are displayed solely within or adjacent to content deemed suitable and safe for advertising.
A Comprehensive Guide To Mastering The Facebook Inventory Filter
Designed to align with brand suitability, the Facebook Inventory Filter places your ads only in contexts that meet advertising standards. The Facebook Brand Safety Toolkit automatically weeds out content that may be overly contentious or offensive – whether it's explicit nudity, excessive violence, terroristic activities, or misinformation flagged by third-party fact-checkers.
But the capabilities of this feature extend beyond these basic safeguards. The filter allows you to refine your ad placements further, ensuring they align with content that resonates with your brand values. This degree of control allows you to foster a brand-safe environment, enhancing both the integrity of your brand and the trust of your customers.
This comprehensive guide aims to explore the intricacies of the Facebook Inventory Filter. Learn its benefits, and provide valuable insights to help you master this brand safety tool.
What Is The Facebook Inventory Filter?
Regarded as an instrumental tool for brand safety, the Facebook Inventory Filter provides advertisers with a robust mechanism to control the sensitivity level of the content where ads are displayed. This brand suitability and safety tool ensures that ads are displayed only in suitable contexts, minimizing the chance of your ads being juxtaposed with controversial or inappropriate content.
To fully understand the functionality of this feature, it's important to explore the two key ad formats where you can customize your Facebook inventory filter settings:
Feed ads: These ads integrate seamlessly into users' browsing journeys, enabling marketers to reach the target audience as they scroll through their social media feeds.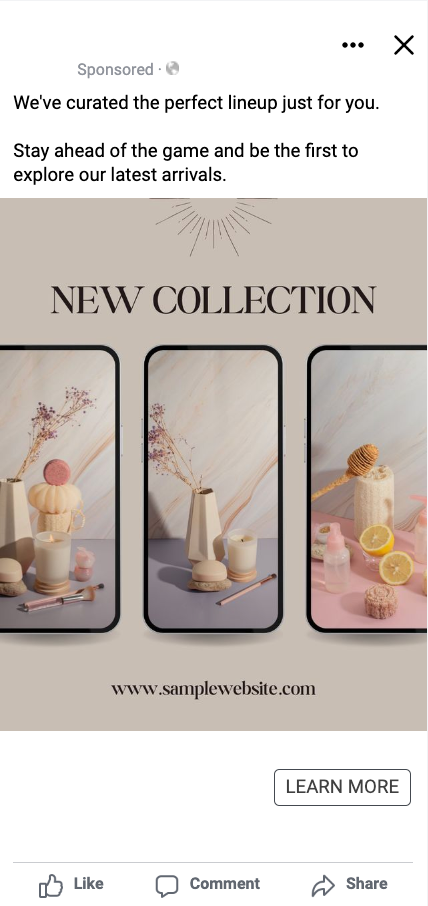 In-content ads: These ads present an exciting opportunity for advertisers to engage audiences across a range of formats, such as in-stream videos, Facebook Reels, and the Audience Network.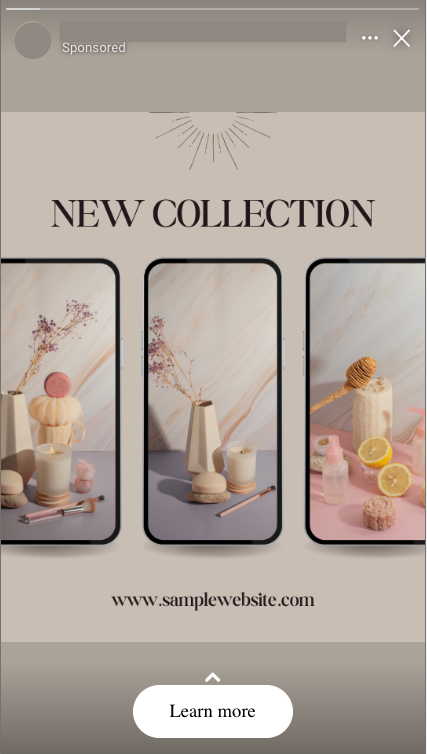 Related Article: What Happens When My Facebook Ads Appear With Inappropriate Content?
How Does The Inventory Filter Work?
The Facebook Inventory Filter offers a considerable level of customization based on their desired level of sensitivity. With this brand safety feature, digital media buyers have the flexibility to choose from these three Facebook Inventory Filter settings:
Expanded Inventory (Full inventory): Ideal for advertisers seeking broad exposure. This setting maximizes ad reach, running the ads to a wider audience. It also allows the ads to be displayed on all content that complies with Facebook's Content Monetization Policies.
Moderate Inventory (Standard inventory): This option strikes a balance between broad reach and brand safety. By choosing the Moderate setting, you can ensure that your Facebook ads are displayed in a context that aligns with your brand values while still maintaining a significant level of reach.
Limited Inventory: Provides the highest level of content sensitivity and brand safety. The limited setting is particularly suitable for advertisers who prioritize brand reputation and want their ads to be displayed only in the most strictly curated and controlled environments. While this option reduces the campaign reach and may incur higher costs, it offers a heightened level of control of suitability over the content with which your brand is associated.
By default, Facebook has pre-set inventory settings for different ad placements. For In-content placements, the default setting is Moderate, ads are displayed in a context that is appropriate for most audiences. For Feed placements, the default setting is Expanded, allowing maximum audience reach.
Related article: A Detailed Guide to TikTok Inventory Filter Tiers for Improved Content Suitability
Inventory Filter Guidelines: Content Exclusions and Inclusions
The functionality of the Facebook Inventory Filter varies depending on the ad placement type, be it in-content and Feed ads, or those within the Audience Network. Each type follows specific guidelines to ensure proper content alignment. Let's explore the filtering mechanisms for each category.
For enhanced control over brand presence within Facebook Feed and Instagram mobile feeds, advertisers can adjust the Facebook Inventory Filter at the ad account level. Media buyers can fine-tune the content alongside which their ads appear. Aligned with the Global Alliance for Responsible Media (GARM) framework, these filters assure a responsible and brand-safe advertising environment.
Here's a breakdown of the guidelines for what each filter includes and excludes: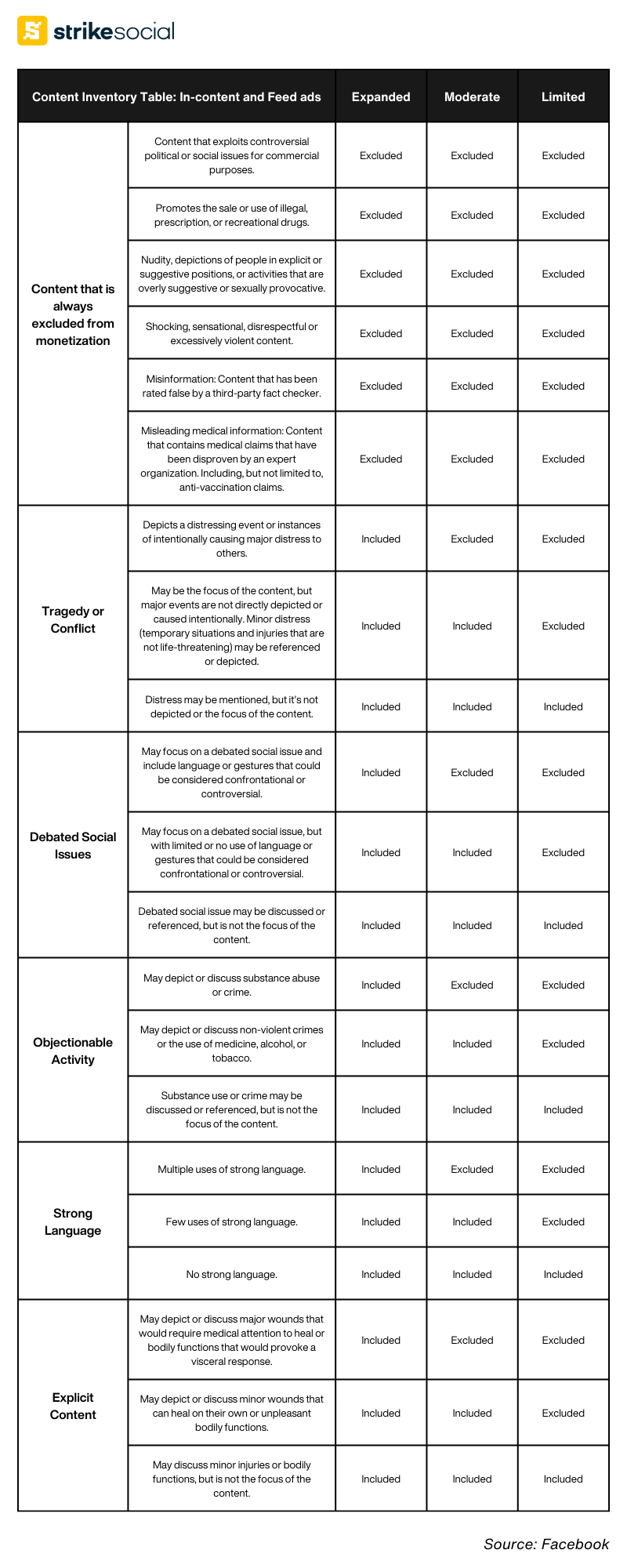 When it comes to ads placed within the Audience Network, Facebook employs a different approach. Apps within the Audience Network undergo a thorough review process and are labeled based on their primary use or function. This classification enables Facebook to ensure content adherence to the Audience Network Policy and Community Standards. By default, any content that violates these policies will be excluded from ad placements.
Let's take a closer look into the specific content categories and the inclusion and exclusion associated with each setting of the Facebook Inventory Filter.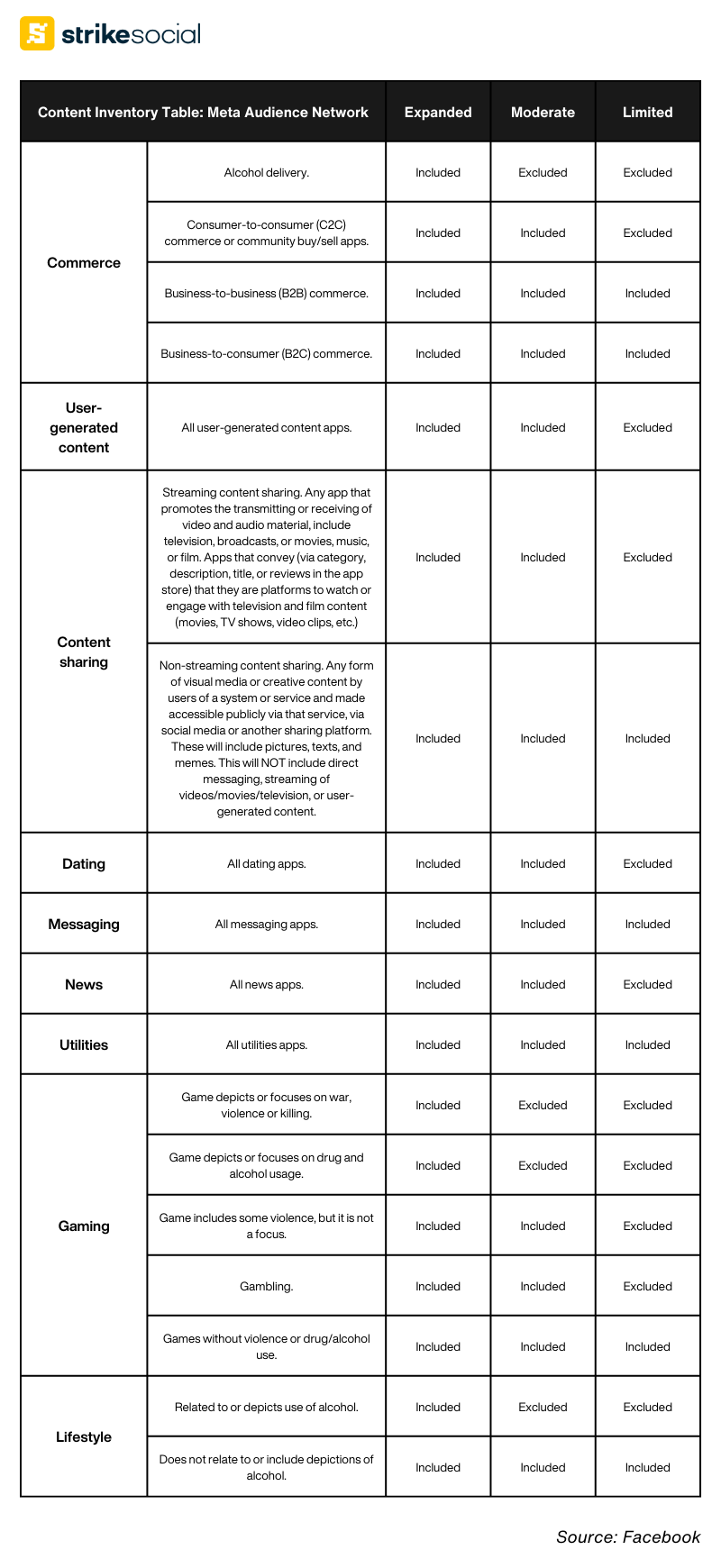 Setting Up The Facebook Inventory Filter
Facebook provides two main avenues for configuring your inventory filter settings:
Brand Safety and Suitability Controls; and
Ads Manager.
Let's explore these options in detail to help you effectively configure the Facebook Inventory Filter for your advertising campaigns.
Brand Safety and Suitability Controls
1. Go to Ads Manager.
2. Click on All tools, and go to Brand Safety and Suitability.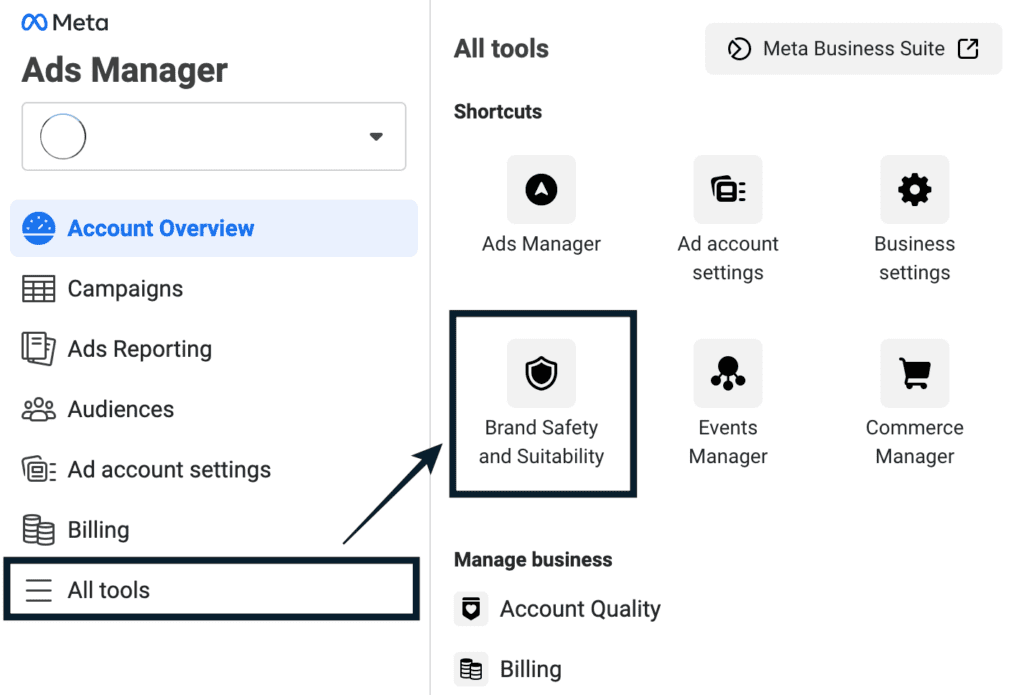 3. Under Controls, you will see the default setup for the Facebook inventory filter. To update these settings, click on the Edit or the pen icon on the right side of the screen.

4. By clicking on Edit for Facebook in-stream videos, and Ads on Facebook Reels, you can update the settings to Full (Expanded) inventory or Limited inventory, or keep it to default [Standard (Moderate) inventory].
5. If you click on Edit for Audience Network, a checkbox will appear if you would prefer to have the same setting as you have on Facebook in-stream videos and Ads. You can uncheck this if you want to set up a different setting for your ads on the Audience Network.

Ad Manager
To access the Facebook Inventory Filter, navigate to the Ads Manager platform and create a campaign as you would regularly.
1. Click on Create to start a new campaign.

2. Proceed with the usual steps of the ad creation. Once you get to the Ad Set level, scroll to Placements. Then click on Show more options.

3. You will see your default Facebook Inventory Filter settings is currently applied (Standard Inventory). To update, click on Edit.
4. Select the inventory filter you wish to apply to your current Ad Set.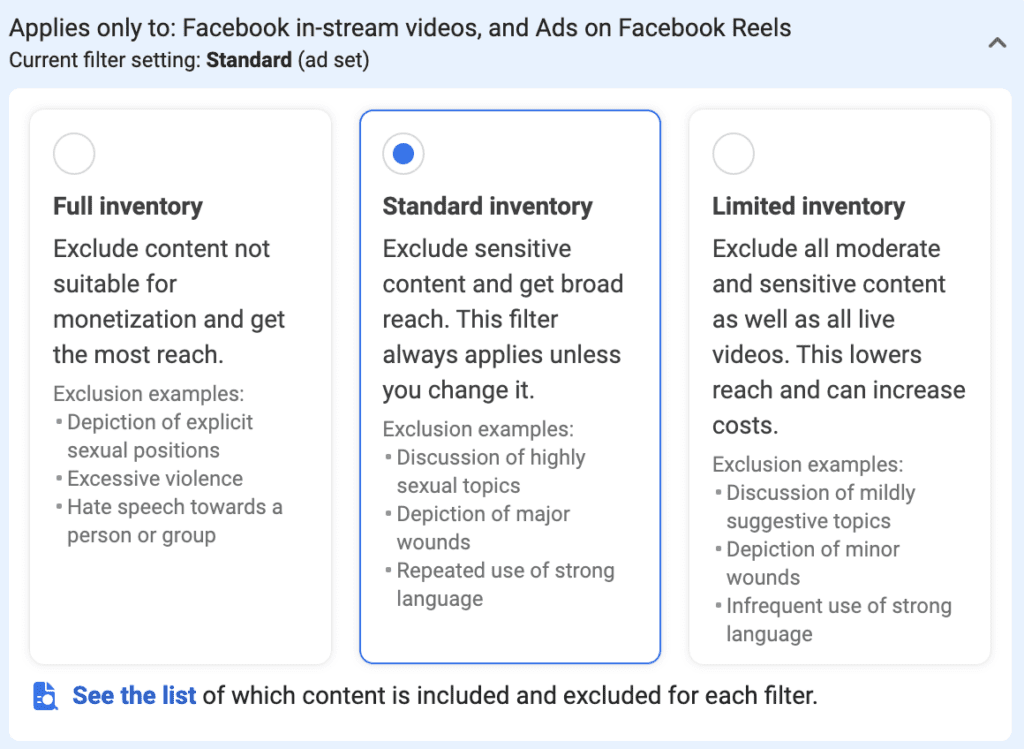 5. Continue with setting up your campaign as usual.
Best Practices for Facebook Brand Safety and Suitability
As a digital media buyer, taking advantage of the Facebook Inventory Filter is essential to maximize ad reach while maintaining brand safety. To help you navigate and optimize this feature, here are some best practices to consider:
The Facebook Inventory Filter controls the type of content the ads are placed alongside. However, it doesn't block specific publishers. If advertisers aim to block certain publishers for the in-content ads, consider using block lists and content exclusions for further customization.
For ads within Facebook's in-stream videos, be mindful of these options:

Limited Inventory Setting: By default, all live videos are automatically excluded.
Moderate or Expanded Inventory Setting: Media buyers can exclude all live videos or only those from publishers that did not opt for monetization.
While Facebook implements brand suitability controls to maximize compliance, it's worth noting that not all content and publishers may perfectly align with your brand's suitability standards. Consider downloading a list of your ad placements to get a detailed overview.
Facebook regularly updates its advertising policies and guidelines, including those related to brand safety and suitability. Staying informed about these updates and compliances allows media buyers to make necessary pre-campaign setup adjustments. Advertisers must regularly review Facebook guidelines about brand safety and suitability in managing the platform's brand safety toolkit.
Take Control Of Your Ad Placements With Facebook Inventory Filter
Now that you have a comprehensive understanding of the Facebook Inventory Filter and its impact on your advertising campaigns, it's time to put this knowledge into action. Implement the strategies outlined in this guide, monitor your results, and adapt your approach to your Facebook ad campaigns.
Stay updated with Facebook's brand safety updates and continue testing and refining your campaigns for ongoing success. Embrace the power of the Facebook Inventory Filter and elevate your advertising endeavors to new levels of effectiveness and efficiency.