Overview
On April 26th, 2021, Apple's much discussed iOS 14.5 update was widely available in general release. ATT or App Tracking Transparency, looks like the image to the right.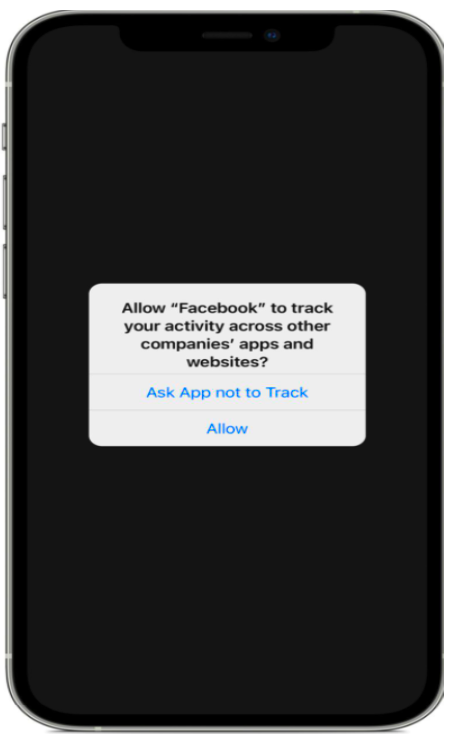 In iOS 14.5, if you ask the app not to track, it will lose access to the IDFA (Identifier for Advertisers). As has been widely discussed, for marketers dependent upon events off of platforms like Facebook this will impact tracking, the ability to personalize messaging and the reduction of cookie pools for retargeting.

In very early data, roughly around 35-40% of users who have had this choice have 'Allowed' the app to track meaning 60%+ have opted out. The majority of users have not. This is in line with initial estimates.

Our position at Strike has always been to primarily rely on native platform audiences and actions taking place within the ad experience. Our campaigns, set-up and anticipated rates we propose for most of our clients, will not be materially affected. For those clients more reliant on CRM data, Lookalike Data and pixel based activity, there will be smaller pools of audience data to work with and likely rising costs.

Major Attribution Changes
Some of the most immediate changes are on Attribution and Event Tracking.
After these changes take effect, except for iOS 14 app install campaigns and automated rules, the Facebook new default window will be a 7-day click/ 0 day view attribution window. This is a change from the 1 day view / 7 day click current default.
These settings can be modified by partners to one of the other attribution windows that are still supported. The following windows will be supported under the new attribution setting:

1-day click
7-day click (default)
1-day click and 1-day view
7-day click and 1-day view
Nothing beyond 7 day attribution is going to exist. This will impact marketers with longer lead cycles.
After these changes take effect, except for iOS 14 app install campaigns and automated rules, the Facebook new default window will be a 7-day click/ 0 day view attribution window. This is a change from the 1 day view / 7 day click current default.

Marketers Dependent on Facebook Traffic May See FB Notifications Like This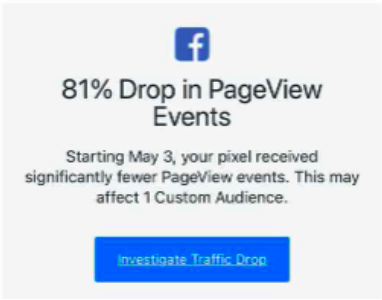 Some marketers that are dependent upon Facebook traffic, both click and view based, are seeing notifications showing pronounced drops in Facebook Page View Events. Please note, the actual, drop in Page Views is likely not 81%, only what Facebook can now track.
In "some cases, statistical modeling may be used to account for conversions." It will be interesting to see how much Facebook and other platforms start modeling conversions.
iOS % of Actions on Facebook
From Strike's proprietary Campaign Lab, we see on a given week 38% – 58% of the actions coming from iOS. Fluctuations by device are not uncommon based on cost and pricing performance.
It is possible that for marketers optiming to website events, we see a higher % of Android actions.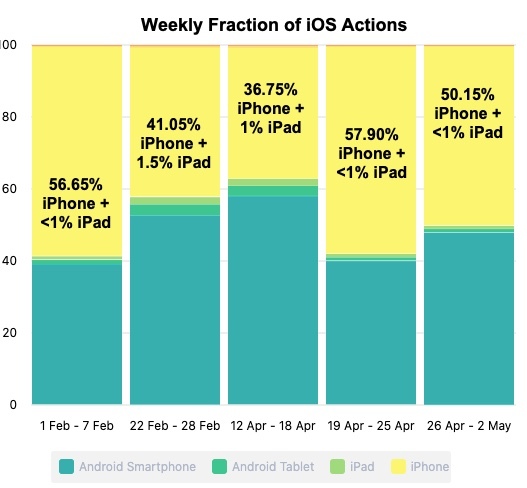 Pixel Changes
Previously, clients could have many Events tagged, reported and optimized on Facebook. This is no longer the case. For example:
A pixel will only report and optimize for a maximum of 8 conversion events for each domain. Facebook will initially configure the conversion events they believe are the most relevant to your business based on your activity. All other events will be made inactive for campaign optimization and reporting
If a client has different activation teams but are using the same Facebook page, they have to use the same pixel. There will be a max of 8 events across all campaigns. This will be challenging for clients that have Upper Funnel and Lower Funnel KPIs and various personnel dependent upon those pixels
If a user was to 'opt-out' on the FB Pop-Up, marketers can only track direct clicks to 1 Event. There will be no Post View impressions on iOS events if they opt-out. If a user Ops-Out, an eCommerce marketer will not be able to see users who 'Add to Shopping Cart,' 'Checkout,' 'Confirm Sale.' They will have to select 1 Event.
Remarketing and Lookalike audiences derived from websites will be smaller as cookie pools will certainly lose data . The need for using native audiences could well increase.
Future Proofing – Platforms & Clients
Many clients have already begun adopting more native integrations. This may be pulling events from a .com into Facebook Shops, pulling Lead Generation Forms into the platforms or bringing more video functionality to YouTube and Facebook. Native actions on the platforms will be even more cost effective than actions driving to sites or apps.
We expect marketers to see a potential reduction in efficiencies of Cost Per Delivered Traffic or CPA's. Clients using pixel data from FB, Google, etc to optimize, the clients may see different results from Android users vs iOS users. It is possible teams will have to adjust bids / budgets for iOS users to compensate for lost data.
Media planning is finding audiences of scale at cost efficiencies. The growth of platforms coupled with the low barriers of entry means most marketers will retain their investment. We do not anticipate topline media costs (CPMs / CPVs / CPCs) to change.
We are advising clients to move forward with their Q2/Q3 scenarios but to anticipate volatility on standard actions where data and scale may be compromised.