After a challenging work week, you decided to order your favorite bottle of wine online. However, when you are about to check out, you receive a prompt saying, "Wines and spirits are only available during Federal Holidays and Super Bowl weekend. Would you mind ordering again a few weeks from now? Thank you." Similar to running a digital ad, where's your brand message when your audience needs one? In an era where technology and automation become a "necessity" more than a "luxury," alcohol brands should place reliance on an "Always-On" advertising strategy.
Think with Google describes an Always-On Strategy as always being present when consumer purchase behavior changes, before and after tentpole events. As one would expect, marketers in the alcohol industry have seen numerous shifts in user habits that affect alcohol purchase even before the pandemic, complexity in regulations both state regulations and online advertising platforms, the growing market share of no and low-alcohol millennial market, and the decline in volume and earnings last 2020 largely due to the reduction of restaurant and bar activities.    

As advertisers for alcohol brands, the primary goal is to have the product or brand message available to the target consumer anytime, all the time, despite any circumstance.
Always-On Offers Advertising Agility
Marketers welcomed 1Q 2021 with a 5.73% increase in ad spends and 40% more activated campaigns versus the busiest season of 4Q 2020. The data can be an indicator that alcohol video advertisers are ready to recuperate from the pandemic slump. As expected, beer premiumization will be a crucial factor on their road to recovery, but does the market know about this?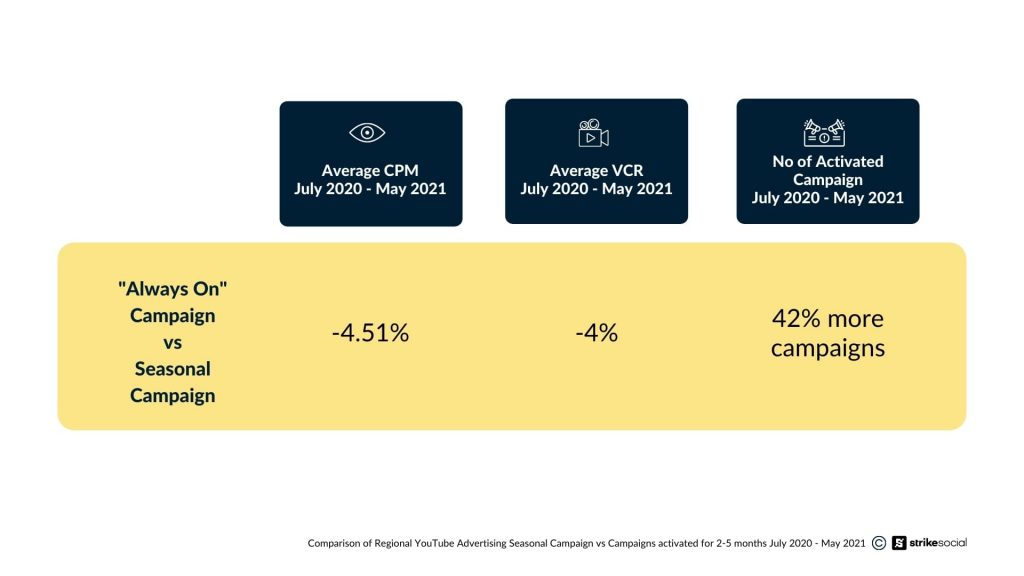 Always-On campaigns allow more space for marketers to move and refocus their target KPI performance – ad reach, brand recall, or awareness. In relation to this, campaigns targeting an increase in exposure record a 98.29% increase in impressions. Furthermore, clients choose to allocate more ad spending on Always-On video advertising against shorter drives in most cases. As a result, these campaigns get a 4.5% CPM improvement. 

Timely Seasonal Messaging Through Campaign Efficiencies
How efficient is Always-On Advertising for the alcohol industry's tentpole events? Brands need to follow their audience to deliver their seasonal assets from pre-buzz, event's peak, and post celebration. Therefore, ads shouldn't stop together with the occasion. Running a more extended video ad allows you to meet product users wherever they are in their customer journey.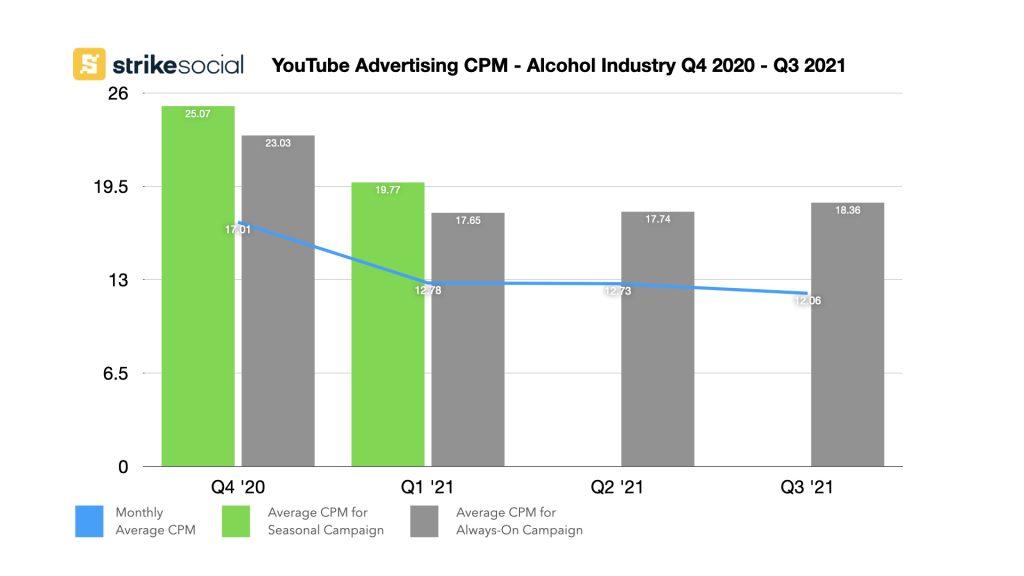 Looking at our data, Q4 CPM shows an 8.86% savings in using an Always-On Video advertising strategy. The record shows a similar movement with a 12.04% CPM in Q1, wherein evergreen campaigns deliver ad efficiencies against seasonal campaigns.

Minimal Gain in Traction: Costly for Short Runs
Launching tentpole video advertising in condensed periods is a sure-fire way to overpay in the auction. Campaign objectives may vary but one thing's for sure; advertisers should be ready to spend a little more when running a short-lived campaign.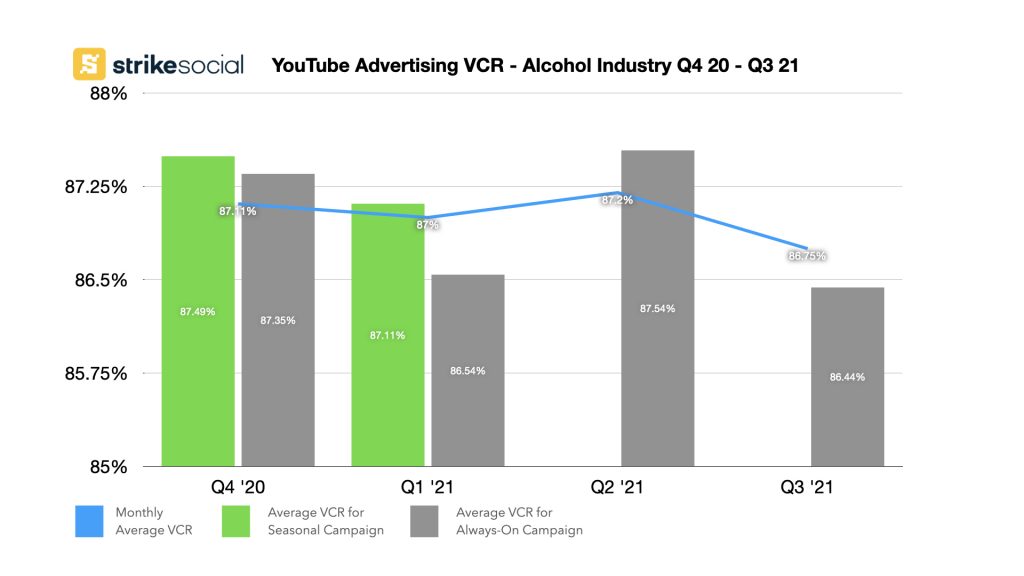 On average, seasonal campaigns produce a slightly higher Video Completion Rate compared to extended campaigns, 0.16%, and 0.66% Q4 '20 and Q1 '21. Spike in VCR increase can be months with celebration and gathering connected with increased consumption of alcohol: Thanksgiving, Christmas, Chinese New Year, and Valentine's. Therefore, marketers may consider a Cost-Benefit analysis when running a sprint campaign.

Key Takeaway
YouTube's Always-On advertising strategy gives alcohol brand marketers the ability to be agile based on their campaign objective. Therefore, marketers can focus on what's more important: increased ad reach, brand awareness, and video views. In addition, timely assets with topical call-to-actions paired with well-crafted video ads will increase the chance to attract targeted audiences.

With the help of advertising technology, granular targeting, and daily ad optimization significantly increase the success rate of running evergreen campaigns together with your seasonal ads.